Win: 1 of 3 copies of London River on DVD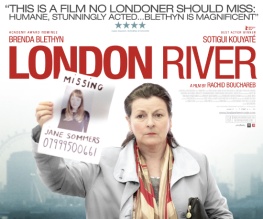 Rachid Bouchareb's independent film London River is a poignant look at overcoming cultural and religious divides in the immediate aftermath of the 7/7 London bombings.
Set against the backdrop of the 7th July 2005 bombings, London River tells the story of a friendship which develops between two seemingly unconnected people – Elizabeth (Brenda Bleythn) and Ousmane (Sotigui Kouyate). Both of them have come to London to search for their children who are missing in the aftermath of the bombings.
Although they come from different religious backgrounds – Ousmane is an African Muslim living in France and Elizabeth is a white Christian living in Guernsey, they share the same hope of finding their children alive. Putting aside their cultural differences, they give each other the strength to continue the search and maintain their faith in humanity.
London River will be released on DVD on the 11th October by Trinity.
ANSWER THIS SIMPLE QUESTION TO ENTER
What is the name of the main river in London?
1. The Thames
2. The Nile
3. The chocolate river just inside Willy Wonka's factory
HOW TO ENTER THE DVD COMPETITION
Simply email your answer to [email protected]
Please include your NAME and ADDRESS – otherwise we can't send you your prize.
Please put LONDON RIVER in the subject title.
Good luck!
Featured on The Prize Finder – UK Competitions, Loquax Competitions, Competitions Today and Crazy Compers
Competition ends 28 October 2010.
About The Author