WIN: 1 of 3 The Collector DVDs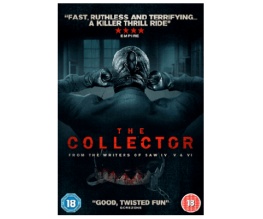 In the run-up to Halloween 2010, one film will stand out amongst all others as the one of the goriest and most suspenseful horror films ever made. Icon Home Entertainment has announced the Blu-ray and DVD release of the macabre, suspense-filled horror thriller The Collector on Monday October 18th.
When the Chase family moves to an isolated house in the middle of nowhere in Detroit, Arkin is hired to fix the windows and the doors. His wife has a debt with dangerous loan sharks and needs money, but his weekly payment is not enough to pay her debts. Arkin plots to heist the safe of Michael Chase during the night to raise the necessary money. However, when he arrives in the house, he finds that a sadistic criminal has imprisoned the family and planted traps everywhere. Arkin seeks a way out of the deadly house to save his life.
From Marcus Dunstan and Patrick Melton, the writers responsible for the horror blockbusters Saw IV, V, VI, and the guys currently behind Saw VII 3D, The Collector emerges as a real-time game of cat-and-mouse with a terrifying twist, making it the perfect Halloween purchase for any dedicated horror enthusiast.
ANSWER THIS SIMPLE QUESTION TO ENTER
What is the most dangerous shark in the world?
1. The toy shark
2. The cartoon shark
3. The loan shark
HOW TO ENTER THE DVD COMPETITION
Simply email your answer to [email protected]
Please include your NAME and ADDRESS – otherwise we can't send you your prize.
Please put COLLECTOR in the subject title.
Good luck!
Featured on The Prize Finder – UK Competitions, Loquax Competitions, Competitions Today and Crazy Compers
Competitions ends 18 October 2010.
About The Author