WIN: 3x Premium Rush on Blu-Ray
Competition ends 25th March 2013
Critically acclaimed thriller Premium Rush is out on DVD and Blu-Ray NOW, but how are you supposed to get hold of it now that HMV has gone up the spout? You can win it right here, that's how!
Coming at the peak of a spectacular year for star Joseph Gordon-Levitt, Premium Rush is a thrilling insight into the world of the New York bicycle courier. Daredevil delivery boy Wilee (JGL) is tasked by his girlfriend's roommate with delivering a letter to Chinatown, but with a bent cop (Michael Shannon) on his tail the kamikaze courier's day just got a lot more interesting.
"Exciting, endearing and deliriously entertaining" (us), Premium Rush is the perfect antidote to a dull British February.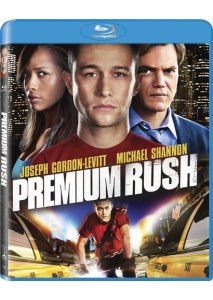 To be in with your chance of winning one of THREE COPIES of Premium Rush on Blu-Ray, simply answer the following question:
What sort of bike does Joseph Gordon-Levitt probably ride in Premium Rush?
a) Just… a normal bike. Maybe a fixie? Something like that
b) Definitely a penny-farthing. JGL likes to keep it Victorian
c) A motorbike, like on Biker Mice from Mars (it isn't this one)
HOW TO ENTER THE COMPETITION
Email your answer to the question above to [email protected]
Please include your NAME and ADDRESS – otherwise we can't send you your prize.
Please put CYCLING in the subject title.
NOTE: To enter the competition, please send an email. You do not need to put the answer as a comment. Good luck!
Competition ends 25th March 2013
About The Author