WIN: a pair of tickets to Singin' in the Rain at Live By The Lake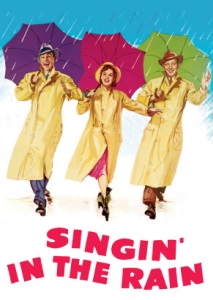 *Competition ends 28th August*
Summer's here at last, and with it comes our most summery competition ever! We're thrilled to be teaming up with the good folks at Live by the Lake, the annual programme of concerts held at the gorgeous Kenwood House in London's Hampstead. You may know Kenwood House from its appearance in Notting Hill (are you a fan of Henry James?), but you're not going to need any memory-jogging to know the film that's popping up as part of Live by the Lake's 2013 concert season – it might as well be the anthem of the British summer.
YES, we've got a pair of tickets to Singin' in the Rain to give away! Directed by and starring Gene Kelly, Singin' in the Rain has been delighting audiences since 1952 – more recently the AFI adjudged it their top musical film of all time and #5 in their definitive list of the 100 most important American films ever. And there's no better way to see it than at Kenwood House this summer. Shown on a huge outdoor screen (you can bring a picnic), the film has been comprehensively remastered so you can enjoy the visuals and dialogue like never before – while hearing the score played live by the London Philharmonic Concert Orchestra.
For your chance to win tickets to the screening on August 30th, simply enter via the widget below – it takes just ten seconds.
We'll be announcing the winner on Wednesday 28th August, and we'll look forward to seeing the winners at the event on Friday 30th!
Featured on ThePrizeFinder – UK Competitions, Loquax Competitions, UK Competitions, UK Prize and MoneySavingExpert
*Competition ends 28th August*
About The Author