SHORTLIST: Jihad All The Way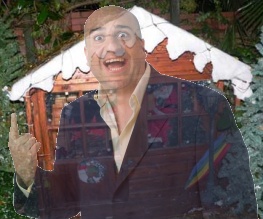 Nothing shouts "political statement" louder than an opening sequence showing Santa Claus looking down from his sleigh as two armies open fire with bloody results, to the strains of Jona Lewie's "Stop The Cavalry". A little hard-hitting perhaps, and slightly misleading as the tone of the film is considerably more light-hearted.
A few miles above Afghanistan, Santa Claus, while doing his job invading airspace, entering the homes of strangers and leaving suspicious packages, has his sleigh shot down by the military and becomes a fugitive- wanted for questioning under the terrorism act. Alone in a strange country, his only hope lies with a mysterious man no one else can see and two perfectly normal suburban children whose lives are turned upside down as they hide their hero from the police… and their parents.
With a cast consisting largely of unknowns, it was a surprise to see Naveen Andrews appearing in the credits, especially after expressing his wish not to be typecast after his role as ex-terrorist Sayid in the cult TV series "Lost". However, when interviewed he insisted that this was an extension of his desire to take on more complex characters. Certainly he does not disappoint, playing the military commander who might just understand what Santa is trying to say.
I was delighted to see the underrated Omid Djalili finally being given a meatier role. Playing Santa's invisible lifeline- it is a far cry from his earlier film appearances. Djalili, dissatisfied with previous roles "Second Azerbaijani oil pipe attendant" in "The World Is Not Enough", and "Disorientated Iranian Orc" in the LOTR trilogy, is said to be very excited by this new opportunity.
Set anywhere else, under any other circumstances, "J…" could be dismissed as a stack of clichés messily wrapped in the Christmas paper no one wanted. The cookie-cutter suburban parents are as clueless as anyone could wish, the youngest daughter as wide-eyed and lisping; "but they told me you weren't real", she gasps as I wince. However, the novel setting makes a must-see for the hard to offend.
The political message, while close to the bone for many, makes this an interesting and thought-provoking experience which left me wondering why no one had attempted this before. In a society as sterile and paranoid as the one Morris has painted, Santa Claus had it coming.
by Roswell Ivory
To vote for Jihad All The Way click the "facebook like" button at the top of the page
Back to Write Christmas
About The Author