One Sleep 'Till Santa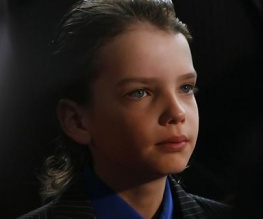 Set entirely in the hours between bedtime on Christmas Eve and the moment of truth; present opening time the next morning, Burton tells the story of a boy called Daniel, played by Kodi Smit-McPhee, trying desperately to fight his uncontrollable excitement and get to sleep so that Saint Nick can come and give him some presents.
The boy's plight is told via a series of imagination sequences reminiscent of the beautiful Where The Wild Things Are that work brilliantly to combine Daniels unparalleled sense of excitement with his childlike desperation to control his own mind and blank out all of his thoughts so that he can get to sleep. The story is told exceptionally well and it seems effortless in reminding the older audience members what it was like to be a small child filled with that much excitement as well as giving one a beautiful idea of naivety and innocence that Tim Burton conjures so well, the same sort of stuff that made Edward Scissorhands such a lovable character. For the kids, there is a huge amount of fun to be had, there are some really funny moments in the film and the children I saw it with were captivated by the spectacularly beautiful dream world that was rolling out before them. Younger audience members may, however be a little restless during the scenes set in-between dreams in Daniel's bedroom as, although they are emotional, they are a little slow, very dark and a little stuffy.
Johnny Depp's obligatory appearance comes in the form of a wizened old clock maker (but looks suspiciously like someone else with that long white beard) who leads Daniel through his own imagination to help him discover the secret of speeding up time so that it can be morning sooner. He looks incredible in the film, the make up is superb and he takes to the role with all the genius that made us think he'd be good as the Mad Hatter. What's more, even though Kodi is a bit older than the character he plays, his performance is very believable for his age, especially as he is the focus of the acting for so much of it. He does a great job of expressing his emotions without seeming forced or clichéd and he deserves a bright future as an actor.
This really is the film of the season. It does what every good family film should do and includes something for everyone. It will have kids crying with laughter and adults weeping through their smiles, either way there won't be dry eyes anywhere if this film has its way. The emotional journey you take fills you with excitement for the big day by filling you with nostalgia for christmases past and will, I think, make it onto many a christmas wish list this year.
By Ben Draper
To vote for One Sleep 'Till Santa, click the "facebook like" button at the top of this page
Back to Write Christmas
About The Author