X-Men Origins: X-Mas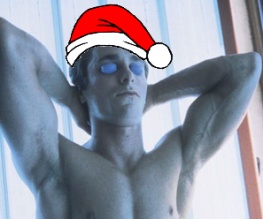 Written by Aaron Sorkin (The Social Network) and directed by Robert Luketic (Legally Blonde, Killers), X-Men Origins: X-Mas tells the story of affable Dutch postal worker Claus Sante (Christian Bale), who goes postal at work and is mortally wounded by police. At the brink of death, Claus's body is transported to a secret government laboratory and transformed into the ultimate delivering machine. With cops and villains surveilling his every move, will Claus be able to pull off the greatest anti-heist of all time?
Without giving away too much, X-Men Origins: X-Mas is filled with surprises, including cameos from Will Ferrell and Jim Caviezel reprising their roles from previous beloved Christmas films.
Tense, compelling and deeply human, X-Men Origins: X-Mas is arguably the best comic book adaptation since The Dark Knight. Bale gives the performance of a lifetime as Claus, infusing his heart and soul into the flawed but immensely likable protagonist. Bale's amazing physical transformation is also a sight to behold, considering he had to put on 100kgs of fat (on a diet of beer and pizza) after his portrayal of skinny Dicky Ecklund in The Fighter.
It's interesting to imagine how the role would have turned out had the producers gotten any of their first three choices (John Travolta, Russell Crowe or Celine Dion's husband), but one thing is for sure — Bale is Santa Claus. Watching Claus don that red uniform for the very first time is indeed a chill-inducing moment that will go down as one of the most memorable scenes in cinematic history.
With ripping dialogue, incredible pace and a character for the ages, X-Men Origins: X-Mas is one for the ages.
By Howard Shih
To vote for X-Men Origins: X-Mas click the facebook like button at the top of the page.
Back to Write Christmas
About The Author