Cheat Sheet: Dwayne 'The Rock' Johnson

Name:

Dwayne Douglas Johnson

Date of Birth:

2nd May 1972

Place of birth:

Hayward, California, USA

Special moves:

Acting, wrestling, cooking

Films include:

The Mummy Returns, Doom, Get Smart, Tooth Fairy, Fast Five, GI Joe: Retaliation
What you probably already know:
If you've had even the slightest interest in Best For Film over the last few years, you'll know that we really, really, REALLY love The Rock. The eight-time WWE champion-turned-actor has won an unexpected degree of success in his second career, going from a dialogue-free cameo as CGI arthropod the Scorpion King (in The Mummy Returns) to the action A-List in well under a decade. In comparison, it took Schwarzenegger thirteen years to land Conan the Barbarian, and all he does now is weep in his empty mansion and wish he'd had a vasectomy before he started boffing his housekeeper.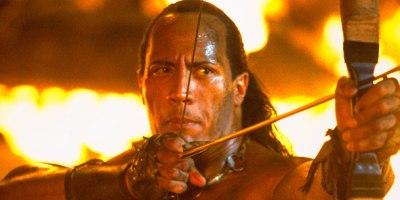 After receiving a record-breaking $5.5m for his first starring role in Mummy spin-off The Scorpion King (in which he beat Jennifer Lawrence to the 'archery is cooler than guns' thing by a clear ten years), The Rock diversified his CV with appearances in family comedy The Game Plan, spy-fi nonsense Get Smart and science-fantasy thriller Race to Witch Mountain. However, his Hollywood profile finally exploded when he returned to action with Fast Five, revitalising the Fast and the Furious franchise with his portrayal of G-man antagonist Agent Luke Hobbs; he'll be back for the next film, having already beaten up some hoodlums on set like an absolute lord.
What you might not know:
It's easy to forget that acting is really just a hobby for The Rock – he'd made his name and his millions long before he ever stepped onto a film set. After a career in professional football went sour, The Rock combined the ring names of his father Rocky Johnson and grandfather 'High Chief' Peter Maivia and entered the professional wrestling circuit as 'Rocky Maivia'. His clean-cut image initially went down badly with fans, but after reinventing himself as a bastard and calling an interviewer an "ugly hermaphrodite" The Rock (who only referred to himself in the third person) developed a huge following, backing up his performances in the ring with memorable promo segments in which he deployed the infamous 'People's Eyebrow' and asked audiences if they could "SMEEEEEEEEEEEEEEELL WHAT THE ROCK. IS. COOKING!" (it was Chilean blackened sea bass, according to this extraordinary Guardian interview). That article also explains The Rock's use of the 'pec pop of love', which is just baffling, and his unlikely friendship with Michael Caine, which developed during the filming of Journey 2: The Mysterious Island and is perhaps best expressed in the following video:
Oh sorry, is that not enough awesome for you? Okay, how's this: in recognition of his Samoan royal heritage and efforts in promoting Samoan interests internationally, The Rock bears the noble title 'Seiuli' when he's in Samoa. He's currently teaming up with Rufus Sewell in Hercules, reportedly in talks to join the DC cinematic universe as intergalactic biker Lobo, AND tooling up to defend our world against the forces of mythology in Lore. Oh, and he's donated several million dollars to his old university as well as setting up a charity for vulnerable children. And he's your real dad. Okay, we may have made up that last bit but WE'RE NOT REALLY SURE AND NEITHER ARE YOU. Get one of your friends to lay down the People's Eyebrow on your mum sometime, and see if she shivers.
Dwayne 'The Rock' Johnson quote:
On his craft – "I love making people laugh and feel good, and that's awesome and special for me to be able to do that, but there really is nothing like kicking ass whether it's on a major scale, or whether it's in more of a dramatic fashion. Being physical and taking care of business the old-fashioned way is something that I love doing."
On his fans – "Barack Obama did tell me that I was one of Michelle Obama's favorite actors."
On shagging aliens – "If I had to describe myself to an alien I'd say I was bigger than the average human, enjoy a drink or two with a good meal and have a bigger head than most. I'd also say I'm really handsome – especially if they were a female alien."
What to say at a dinner party:
"His effortless transition from sports to the silver screen proves that The Rock's endless charisma and show-stopping physique are the least of his talents. Here's to an Oscar nomination for the king of post-millennial action!"
What not to say at a dinner party:
"Ever thought about hanging up the banana-hammock, Rocky? Makes you look a bit stunted, y'know, down there…"
Final thought:
GI Joe: Retaliation is out tomorrow, and if Fast Five is anything to go by then The Rock might actually make it watchable. Just make sure you watch out for the People's Strudel…
Missed your favourite Rock fact? Drop us a comment below!
About The Author