Cheat Sheet: Kevin James

Name:

Kevin George Knipfing

Date of Birth:

26th April 1965

Place of birth:

New York, New York

Special moves:

Finding work in the face of overwhelming odds

Films include:

Hitch, I Now Pronounce You Chuck and Larry, Grown Ups, Paul Blart: Mall Cop, Zookeeper, Here Comes the Boom
What you probably already know:
Let's address the elephant in the room (and no, that's not a comment on Kevin James' rotundity): comedy is completely subjective. What one person may find funny is not necessarily what anyone else might find funny. Performing as a standup comedian in New York for 10 years must not have been easy, so there assurdly something funny about him. Unfortunately, he has never shown any evidence of this in his films. After Adam Sandler brought Kevin James out of the shadows of TV and into his films, his rise to stardom has been slow but steady. We are only now entering the golden era of Kevin James.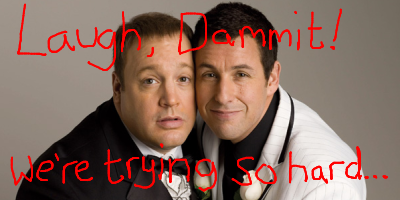 Kevin James has never been offensively bad as Adam Sandler or Rob Schneider have been, but that disarming lovable affect is almost worse because you let your guard down. "He's all tubby!" you proclaim, "Surely he must be funny?" Alas, no. In all his films, Kevin James attempts to illicit your pity with his pathetic, schlubby characters. This, of course, has nothing to do with comedy, and Kevin James would prefer to keep it that way. The average Rottentomatoes score for a film featuring Kevin James, it might interest you to know, is 34%.
What you might not know:
Kevin James is the first lieutenant in the shadowy cabal known as the United Church of Adam Sandler. Founded in 1693 in London, this occult-obsessed group of wealthy and power-hungry men set their sights on world domination. Relocating the church headquarters to New York in the early 1800s (no one knows the date for sure, such is their secrecy), the cult spread its political, economical and cultural influence far and wide. Although it is not well known, UCAS' primary objective was to find a suitable human host with which to impregnate the avatar of their Dark Lord, so sayeth the Warlock Abaddon. Finally, after over 250 years of trying and the sacrifice of the Goddess Idols of Taste and Comedy, Adam Sandler was born in September 1966. The world would never be safe for movie-goers ever again.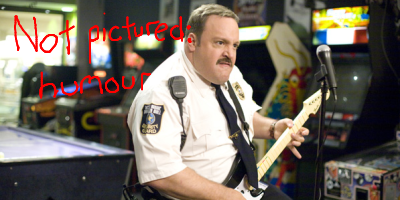 After being seduced by The Master, Kevin James found that his dark powers of The Unfunny were growing stronger under the baleful, and often perverted, guidance of Adam Sandler. His final test in becoming the adoptive son of the Antichrist was his role in Hitch, where his task was to suck all joy out of that God-awful movie. The "Kevin James Dance" horrified millions, and his journey to the Dark Side was complete. Evidence for this comes from the fact that the success of Kevin James without the forces of darkness is counter to the first and second laws of Thermodynamics.
Since then he has found the courage to star in his own films. Here Comes the Boom is Kevin James' first foray into writing within the Sandler film genre, and he is doing extraordinarily well for himself. He has never, however, quite lost the spindly touch of Adam Sandler, who is surely continuing to spread his influence through the medium of Kevin James.
Kevin James' deepest desire (after living only to please the Dark Lord Sandler) is to one day win the most coveted prize of all for the cult, a Razzie. He came close in 2007, when he was nominated for two separate Razzie awards for Worst Supporting Actor and Worst Screen Couple (with Adam Sandler, who else?) but he has yet to walk away with one. Here's hoping for the 2013 Razzies, Kev!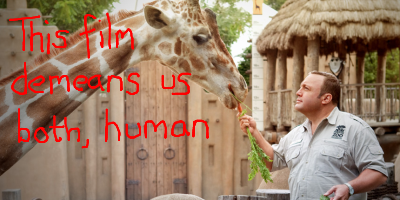 Kevin James quote:
"I'm not a gay man, but I will say this: I get it now. I know what all the hype is about."
What to say at a dinner party:
"As Wittgenstein said, "The limits of my language are the limits of my world," and everything in my experience has led me to agree with this assertion. For instance, Paul Blart: Mall Cop actually defies any attempts at description. The true extent of its awfulness is unknowable because human language has not yet developed adjectives strong enough to describe it."
What not to say at a dinner party:
"Are you going to eat that?"
Final thought:
Did you know that they're making Grown Ups 2? Joking aside, that really should be considered a war crime. For more Kevin James bashing, check out our review of Here Comes the Boom and save yourself a trip to the cinema.
Do you actually know anything about Kevin James? You do? HERETIC!
About The Author