Cheat Sheet: Naomi Watts
Name:

Naomi Ellen Watts

Date of Birth:

28th September 1968

Place of birth:

Shoreham, Kent, England

Special moves:

acting, philanthropy, practicing Brazilian Jiu-Jitsu

Films include:

The Ring, Mulholland Drive, 21 Grams, King Kong, The Painted Veil, Tank Girl, You Will Meet a Tall Dark Stranger.
What you probably already know:
Her blonde hair, her buck teeth, her hollow eyes..
But also, Watts never graduated from school and worked as a model for many years before being taken on as an actress in Australia. Her career has taken some strange turns, and at it's lowest point she was working as a nanny for Tom Cruise and Nicole Kidman's kids. But things picked up for her in 2004, when she was nominated for an Oscar for 21 Grams, but lost out to Charlize Theron for Monster. Too bad Naomi.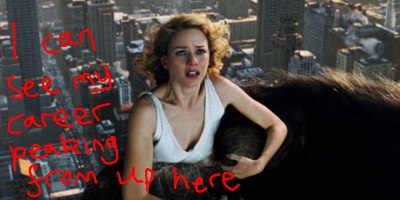 Her recent hits have included King Kong, J. Edgar and You Will Meet a Tall Dark Stranger.
What you might not know:
Her favourite film is Don't Look Now and her favourite band is Radiohead. She has a fear of deep water from an early childhood experience and speaks some Welsh, having gone to language classes as a child. She was voted one of People Magazine's 50 Most Beautiful People in their 2002 poll and has appeared on many '100 sexiest women ever' polls (God knows why). She was asked by Woody Allen to appear in Melinda and Melinda and Cassandra's Dream, but had to turn them down due to scheduling conflicts. She has two children; Samuel (four) and Alexander (five).
Naomi Watts quote:
"People think of me as the go-to-girl for nervous breakdowns."
"Every time I dress up to go somewhere, I say this is who I am: like, I feel like a Russian hooker tonight. A long time ago, I put on a Stella McCartney top with a huge amount of feathers, and I had really black eye makeup and stringy hair. My mom was like, 'That top's not working'. But that's what I looked like, a Russian hooker".
What to say at a dinner party:
"I've heard her nickname is "The Queen of Remakes", which is a little harsh considering she's only been in a handful of remakes including King Kong and The Ring. Naomi is a true original."
What not to say at a dinner party:
"So I heard her dad worked with Pink Floyd! That must've been a pretty rock and roll childhood!" (Her dad did work as a road manager for Pink Floyd, but died of a heroin overdose when Watts was four).
Final thought:
Take a look at her below in the trailer for The Impossible, which has already gained her a nomination for a Golden Globe.
Anything else you think the world should know? Drop us a comment below!
About The Author