Cheat Sheet: Richard Gere
Name:

Richard Gere

Date of Birth:

31 August, 1949

Place of birth:

Philadelphia, Pennsylvania, USA

Special moves:

Actor, Buddhist, Humanitarian, tap-dancer, supermodel-divorcee

Films include:

American Gigolo, An Officer and a Gentleman, Pretty Woman, Chicago, Nights in Rodanthe, Arbitrage
What you probably already know:
This silver-haired fox still makes the women of the baby boomer generation swoon. Most of this fame can be attributed to a physique that has been honed through a high school career of gymnastics which then led to a scholarship at the University of Massachusetts. Two years later he ditched the trouble of education and began his rise to stardom quite respectably in the London theater with the stage production of Grease. His breakout role was as Julian Kaye in American Gigolo. He has been married twice, the first being to supermodel Cindy Crawford who he divorced in 1995.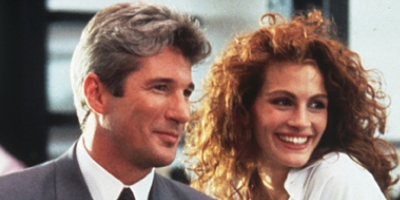 His most memorable role, one which still has the ability to turn hearts 'a flutter, was Edward Lewis in Pretty Woman. The tale of the filthy-rich businessman falling in love with the plucky, duck-before-the-swan prostitute had all the makings of a typical Disney princess story and as such has become a much loved staple of the romantic comedy genre. It was 2002 before he next garnered as much attention, this time for playing the role of slimy, smarmy, and completely amoral lawyer, Billy Flynn, in Chicago.
His recent work includes Brooklyn's Finest, The Double and Arbitrage.
What you might not know:
Gere mostly takes up our interest now due to his religious inclinations and political affiliations. His twenties saw an avid interest in Zen Buddhism which he topped off with trips to Nepal, meeting the 14th Dalai Lama and a heavy involvement in the Tibetan Independence Movement. His religious and humanitarian efforts got him banned from the 1993 Oscar ceremony when he made anti-China comments on air. Funnily enough, while the Golden Globes and Screen Actors Guild have seen him nominated multiple times, the Academy Awards have noticeably left him out of such accolades.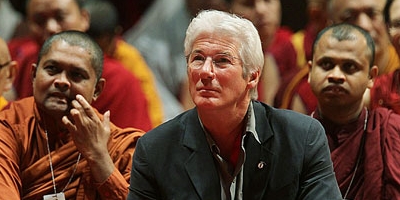 Gere is directly descended from the Mayflower. With his current wife (Carey Lowell) he owns the Bedford Post Inn, in Bedford, New York, which has eight rooms, two restaurants, a yoga studio and a meditation center.
He is currently the star of the Tokyo Towers real estate development advertisements in Japan, which follows on from his previous work for a VISA promotional program and the endorsement of the Italian car brand Fiat and his total net worth to date stands at $45 million.
If you look really closely and slow down the movie expertly, it is said you can catch the barest glimpse of his penis in American Giglo.
Richard Gere quote:
"The secret of my success is my hairspray."
"I know who I am. No one else knows who I am. If I was a giraffe, and someone said I was a snake, I'd think, no, actually I'm a giraffe."
What to say at a dinner party:
"It's great to see him going against what he is known for, shaking of the shackles of the romantic lead and taking on juicier roles of a dramatic nature. Looking forward to seeing what the old coot will be up to next."
What not to say at a dinner party:
"Didn't he get arrested in India?"
(April 15, 2007, saw Gere lip-smacking Bollywood superstar Shilpa Shetty's cheek. Local courts ordered the arrest of both stars for "public obscenity" but Gere escaped by fleeing the country. Since then the case has been dismissed by the Chief Justice of India as "frivolous" and Gere has been ruled as "free to enter the country". )
Final thought:
Pushing 60 in any industry is not easy. More so for those whose work usually depends mostly on their appearance. There's a certain amount of bravery involved in leaving behind your known screen persona and venturing into a new and untried one. Couple this with his tireless and magnanimous efforts on behalf of people who have less rights than himself and you really have to admit that the man deserves a stiff pat on the back.
Anything else you think the world should know? Drop us a comment below!
About The Author