Cheat Sheet: Saoirse Ronan
Name:

Saoirse Una Ronan

Date of Birth:

12 April, 1994

Place of birth:

New York City, New York, USA

Special moves:

Actress, Oscar nominee, Alien Host

Films include:

Atonement, City of Ember, The Lovely Bones, The Way Back, Hanna, Byzantium, The Host
What you probably already know:
Saoirse hit our radar at the tender age of 13 when she played the young Briony Tallis in Atonement. This little humdinger of a role gained her a Golden Globe and BAFTA  nomination for Best Supporting Actress but also ushered her into the youngest people to be nominated for an Oscar category.
Since then she's been a busy little lass, racking up a healthy little average of 2 movies a year, most of them high-profile projects that featured as the lead. Peter Jackson was so impressed by her home-made audition tape that he cast her as Susie Salmon in The Lovely Bones without even meeting her.
She has worked alongside such well-known talents as Cate Blanchett, Eric Bana (Hanna), Colin Farrell, Mark Strong, Jim Sturgess, Ed Harris (The Way Back), Gemma Arterton (Byzantium) and Catherine Zeta-Jones (Death Defying Acts) and not only held her own but in some moments out-shone them.
Her latest foray is targeting the YA world, with her taking on the dual character of Wanderer/Melanie Stryder, in this year's version of the Twilight saga, Andrew Niccol's The Host.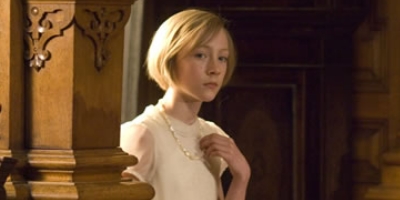 What you might not know:
Here at BFF we like to keep you up-to-date in your vocabulary. So here's a quick tip: Saoirse actually sounds nothing like it is spelled. The Irish name is pronounced as "seer-sha" but don't be confused if you hear it as "sur-shuh", that's just the American's botching things up again. And just in case you were wondering her name means "freedom". Awww… isn't that nice?
Saoirse didn't come upon acting by accident. Her father, Paul Ronan, is off the same caste. Backtrack to Brad Pitt's The Devil's Own and you'll catch him playing the character of Sean Phelan or take another look at Jimmy Guerin inVeronica Guerin and check out the flexing of his Thespian muscles. Daddy dearest is the reason why Saoirse was discovered at all. Upon accompanying him to an audition she caught a casting directors eye and at age 9 was featured in the Irish television drama, The Clinic.
We might have caught on to Saoirse a lot sooner if Evanna Lynch hadn't gotten in the way. Ronan actually auditioned to play Luna Lovegood in Harry Potter and the Order of the Phoenix. In fact, we might have seen a completely different vision for The Hunger Games if the role of Katniss Everdeen had been offered to her first. However we are happy to report that she has just accepted a new gig as part of the cast for Ryan Gosling's writing and directing debut How to Catch a Monster together with Christina Hendricks, Eva Mendes and Ben Mendelsohn.
Her career to date has resulted in a rather impressive collection of Irish Film & Television Awards; five to be exact. So far none of these roles have involved speaking in her native Irish accent, but instead have been of an American dialect.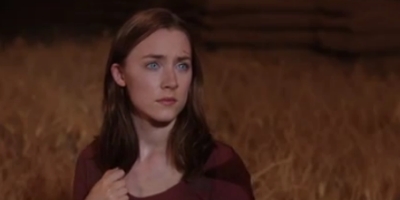 Saoirse Ronan quote:
"Acting is one of these things that I can't really describe – it's just like, why do you love your mum and dad? You know, you just do."
What to say at a dinner party:
Anyone who can catch the eye of both Joe Wight and Peter Jackson MUST be special. Saoirse has made her mark even before she's hit her twenties so I can only imagine what kind of work she will produce in the future.
What not to say at a dinner party:
"But you're so little! Bet I could take you!" (As Graham Norton learned, this might not be such a wise idea):

Final thought:
In a short space of time, Saoirse Ronan has bedazzled critics and masses alike. Her intriguing elfin looks coupled with her wise-beyond-years talent has safely settled her as a most coveted talent. With only 19 years to her name, there is little doubt that her career will continue to thrive and we are more than happy to watch it flourish.
Anything else you think the world should know? Drop us a comment below!
About The Author