Cheat Sheet: Steve Buscemi

What you probably already know:
Steve Buscemi is known not for his qualities as a leading man (although he's certainly been proving them on HBO's lavish mobster drama Boardwalk Empire in recent years), but more for playing off other people. Often playing frenzied, neurotic, paranoid characters, Buscemi's (how can we put this delicately?) unconventional facial structure (nailed it) marks him out as a distinctly oddball type, and his roles usually reflect that.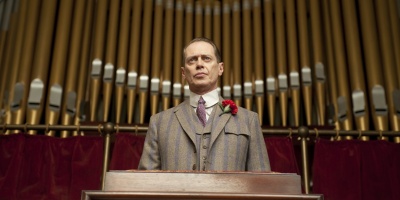 You probably know him as irritable bank-robber Mr. Pink in Reservoir Dogs, or as Rockhound, the astronaut who goes mental and commandeers a hyper-powered drill on a planet-destroying asteroid in Armageddon. Or maybe he's more familiar as creepy, criminally insane Garland 'The Marietta Mangler' Greene having lunch and singing hymns with little girls in abandoned swimming pools in Con Air.
Or maybe – just maybe – Steve Buscemi will always be known as Mr Deeds' Crazy Eyes…
…but we hope not.
What you might not know:
Buscemi, despite his name and prediliction for playing Italian-American gangsters, was not actually born in Italy, although his father does hail from the home of the Mafia in Sicily. In fact, Buscemi was so out of touch with his roots that didn't even know how to pronounce his own name; "I had to go to Sicily to find out I pronounce my name wrong." (It's Bu-shemmy, not Bu-semmy, for the record).
You might also not know that he wrestled for his school's varsity wrestling squad (difficult to imagine, now, right?), and before he became an actor, Buscemi tried his hand at being a stand-up comedian. Given his skill at one-liners and the various impassioned rants peppered throughout his movie career, he'd probably have been quite suited to it! However, it didn't quite pan out that way. "I think all comics borrow from each other. Only a few have an original voice, and I wasn't one of them. In the end, I couldn't figure out who to steal from, so I stopped doing it."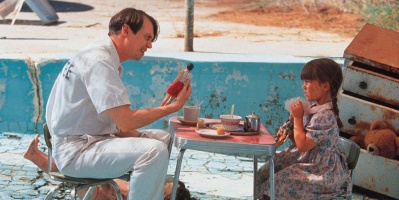 Buscemi also served as a fireman in New York's Little Italy between 1980 and 1984. Incredibly, the day after the tragic 9/11 attacks on New York, Buscemi returned to his old fire-station and volunteered to help with the clean-up. Buscemi spent twelve hours a day, for a full week, sifting through rubble and working with his old firefighting comrades to search for survivors amid the chaos. "I never made a daring rescue, which is the story people want to hear. I did go to my share of fires." What a man! Not only that, but Buscemi even got himself arrested in 2003 for protesting the closure of the aforementioned fire-house.
We can't imagine many other Hollywood types going to any such lengths to defend their roots and help their fellow man, so Buscemi definitely gets a fireman's salute from us!
Steve Buscemi quote:
"I don't tend to think of these characters as losers. I like the struggles that people have, people who are feeling like they don't fit into society, because I still sort of feel that way."
What to say at a dinner party:
"Steve Buscemi is one of Hollywood's most valuable players. He's a multi-talented, unique presence, providing a much-needed antidote to the pretty-boys and traditional heart-throbs that so often lack the talent to back up their chiselled looks and flowing locks. Buscemi is the real deal; a brilliant actor who is committed and passionate about his work both on and off the screen. We need more like him!"
What not to say at a dinner party:
"Hey, Steve, you've got the tip covered, right?"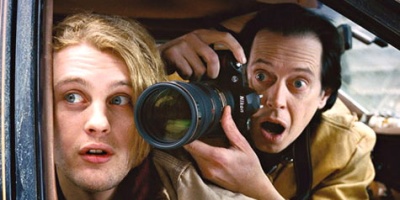 Final thought:
Buscemi is pretty much always the best thing he's ever in – with the notable exception of his current project, Boardwalk Empire, in which he's his usual brilliant-self, but the nature of his character and the large, varied ensemble cast, mean that other more vibrant characters generally steal his thunder. As much as it's great to see him playing a more nuanced character, we have to admit we'd like to see him return to the big screen some time soon, cracking wise and shooting his mouth off all over the place. Who else currently fills the oddball sorts of roles that Buscemi made his own? Nobody; that's who! Come back, Buscemi! Hollywood needs you!
What's your favourite Steve Buscemi role? Want to see him back in cinemas in a bigger way than just voicing animations? Drop us a comment below!
About The Author