Hot Tub Cinema – we dive into London's soggiest screening

I had never heard of the Hot Tub Cinema before so, when John told me I was heading off to review one of their festive events, I found myself wildly excited. Images of traditional wooden Jacuzzis, akin to those seen in ski lodges, strewn across a London rooftop filled my mind. Mugs of hot chocolate, relaxing pools of luxuriousness and a rip-roaring good movie – what could be better?
As it turns out, almost absolutely anything. Because the Hot Tub Cinema I had fixed in my mind was VERY different to the reality…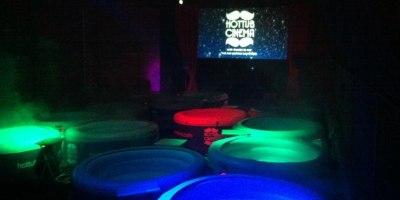 First things first, it's not on top of a roof. It's painfully obviously UNDER a roof – and not a very nice one at that. I'd been told Hot Tub HQ was opposite the glorious Queen of Hoxton (home of its very own one-of-a-kind screenings), but more accurate directions might have read "down an alleyway in an empty factory next to a building site which is kind-of-sort-of opposite the Queen of Hoxton". Not a good start.
My friend/+1/bodyguard wandered through a poor man's attempt at a winter wonderland (a bit of fake snow, a Christmas tree and the sort of creepy photographer that instantly makes you wish you'd brought the bear mace out) and into the reception, where we were handed our wristbands and told to strip off when we were ready. We weren't ready – partly because everyone who'd got there before us had been ready for this moment for years, partly because nobody feels like stripping down to a bikini when standing in a darkened and unheated warehouse. But, as time was ticking on, we retreated to the toilets and unwittingly pulled off our clothes, before popping out coats back on (YES WE WERE THAT PRUDiSH!) and handing in our bags of belongings to the cloakroom.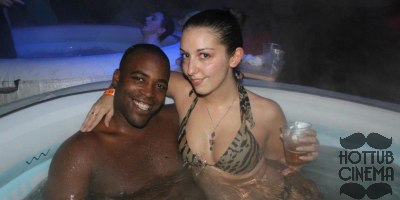 They took our coats. Obviously they took our coats. So, now covered in goosebumps and more uncomfortable than ever, we scuttled through the throngs of drunken swimwear clad cinema-goers and hopped into what can only be described as a glorified paddling pool. For a while, it seemed as if we might have the entire tub to ourselves… until the tallest man in the entire world poured himself in alongside us, complete with girlfriend, and promptly began the steamiest makeout session ever. Occasionally they paused to breathe or swig from their glasses but, on the whole, they seemed more content on body-bumping me and my pal to the very edge of the tub.
At least the film had begun… with the sound turned down so low that we had to rely on amateur lip-reading skills to understand what Billy Bob Thornton was saying. We're pretty sure we were watching Bad Santa but, with no audible dialogue, it looked an awful lot like a porn film. Especially when you threw in the fact that almost everyone around us was wasted, some of the girls had "lost" their bikinis and everyone was gearing up for what seemed like the inevitable water-based orgy at the end of the night.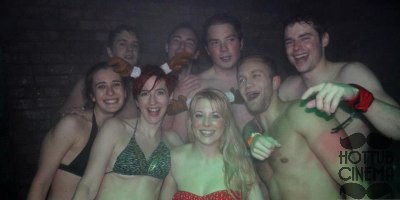 Still we persevered, ignoring the creepy older gentleman who had stripped off his silk kimono in front of us, eyes never leaving our faces as he did so. And the man who upended his bag of Haribo into the tub, lazily plucking sweets off the surface of the water to pop into his mouth. But, when we spied the creepy soon-to-be-in-a-police-lineup photographer from before documenting the entire experience from the shadows, we made an unspoken decision to escape the madness at all costs. This involved us bartering for our clothes back, pretending we were only after them as we were cold, sweet-talking a bouncer and finally bursting out onto the street via a (thankfully) non-alarmed fire escape door.
The next day, John informed me that, after checking Twitter, he'd discovered that most of the other attendees had gone more for the post-screening shenanigans than the film itself. Excellent. "But Kayleigh, you've always wanted to get Haribo juice on your tits in a warehouse full of inflatable bathtubs! You have literally always wanted that!" he continued, looking crestfallen.
That man is all heart.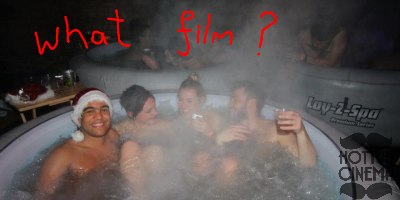 In short, this is an event for those who have absolutely no interest in movies at all. If you're free, single and ready to mingle then feel free to fork out the thirty quid to go sit in a pool with a group of drunken strangers. Otherwise, why not just stick a DVD on your own TV, pull it as close to the bathroom door as possible and watch from the privacy of your own tub. You might even be able to hear it…
About The Author