Interview! We talk to Interview with a Hitman star Luke Goss
There comes a time in every girl's life when she must interview 80s pop sensation Luke Goss. For me, that moment arrived on a balmy summer's morning in early July. Girding my loins, frantically Wikipedia-ing and memorising his filmography and making sure I had a good Bros joke stored away to break the ice ("Luke, when will I be famous?") I headed for London's Corinthia Hotel to meet my destiny. Nestled away in the kind of plush suite that comes with two sinks (TWO!), endless bottles of sparkling water and whisper-shut everything, I waited nervously for my moment with the Goss, before being finally ushered in for my interview.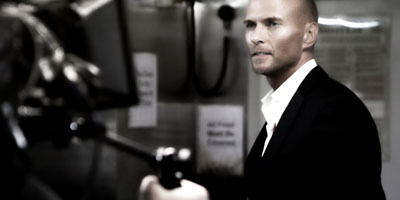 Luke Goss really couldn't look more like a retired boybander who has lived in LA for the past five years (he moved there in 2007 with his wife Shirley). Though in his forties he is lean, strapping and tanned with unnervingly sharp cheekbones. "Don't look him directly in the cheekbones!" I mutter to myself as I enter the room. "Questions! Ask him lots of important questions!"
The reason I was there, sweating and mumbling like a drunk uncle at a wedding, was to discuss Goss's newest film. Written and directed by Perry Bhandal, Interview with a Hitman tells the story of Viktor (played by Goss), a Romanian assassin who flees to England when he is betrayed by the people he works for. In England, Viktor – a sociopath who began his career as a leather jacket-wearing, pistol-toting child and spends the rest of his life shooting everyone in the world – meets and falls in love with the beautiful Bethesda (Caroline Tillette), which immediately gives him cause to rethink his violent lifestyle. The whole film is framed by an interview with an old filmmaker, looking back on Viktor's life and the events that have led him to this point.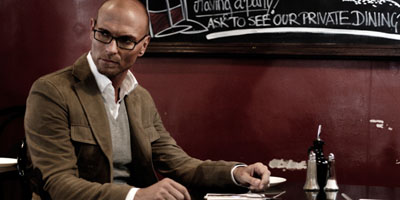 When I mumble nervously that this is my first ever interview – Bros joke going straight out the window – Goss generously cheers me on and all kind of nonsense floods my brain ("LUKE GOSS: WORLD'S NICEST MAN?"). After a moment's quiet reflection, though, I clear my throat and manage to articulate something resembling a question. "Congratulations on Interview with a Hitman!" I squeak, "It must have been a really exciting film to work on". Goss replies in the affirmative (unsurprisingly), explaining that this is only his second British feature but that from his first reading of the script he was absolutely certain he wanted to make Bhandal's film.
In discussing the film, Goss is full of the kind of soft-spoken, straight-down-the-line enthusiasm that you might expect from the biggest Hollywood stars. It is actually very nice hearing him talk about Interview with a Hitman with such sincerity. When I express my surprise at the tone of the film, bringing up the restrained, almost melancholic feel, he gets genuinely excited. "It's quite sad, he's very lonely," he says of his character Viktor. "He's intimidated by one thing and that happens to be love. It's nice to play that character who's isolated and troubled".
Of course, Goss is no stranger to playing this kind of role. Alongside appearing in BFF favourite Deep Winter, he has made a name for himself playing a series of troubled antiheroes. From Frankenstein's Creature to Blade II's vamp Jared Nomak to Hellboy II's elf prince Nuada, Goss has somewhat cornered the market on sympathetic, pale-faced, vengeance-seeking monsters. When I bring this up, Goss explains the appeal for him: "Antiheroes are more interesting I think. It's good to save the day and get the girl, for sure, but it's nice to do that whilst being troubled, without being squeaky clean. Those characters that have those underscores are always more interesting to play."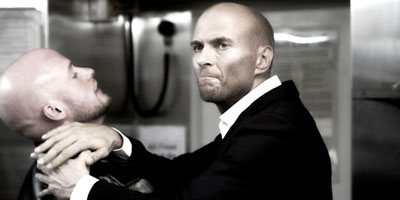 We talk briefly about Interview with a Hitman's protagonist Viktor as a likeable – albeit seriously troubled – character (Goss is oddly pleased to hear that as a woman, I found the character sympathetic), before moving on to the action elements of the film. I bring up a particularly convincing fight sequence and, much like everything else we discuss, Goss is eager to articulate his thoughts about the driving impulses behind the scene. He describes his desire to use the environment around him truthfully and to nail the motivation – in this case, saving a woman from a bunch of rapists. "Yeah I think that's a cool little fight," he adds as an afterthought.
It's clear that Goss isn't terribly interested in talking about the technical aspects of the film. What he really wants to talk about is his personal philosophy. When I bring up, for instance, his portrayal of Frankenstein's Creature (he appeared in the 2004 mini-series), he gets a bit gushy. "I loved playing that role," he says. "Frankenstein for me was a real challenge. When I finished playing the Creature I was very upset for a few weeks, because I felt like I'd abandoned him which is such an illogical feeling." He adds touchingly, "But I was saddened by him so much".
Dabbing the tears from my eyes, I wonder aloud if there are any dream projects for Goss. He states cheerfully that he's always had a soft spot for Batman and – purely from a fanboy viewpoint – would love to have a stab at playing the Dark Knight. With talk of a Batman reboot already in the works, could we be looking at our next Bruce Wayne? (BROS WAYNE?) Perhaps, but there is certainly a humble aspect to Goss's flashy Hollywood-ness. He goes on to say that he would love to work with del Toro again on a big screen version of Frankenstein, but modestly acknowledges that "I think he probably has people in mind".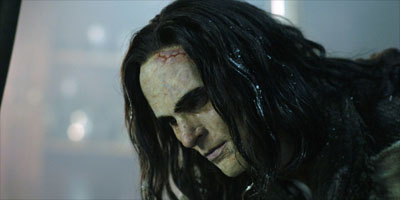 Goss's last thoughts on Frankenstein – which has evidently been a huge influence on his career – do well to sum up his sincere, thoughtful persona: "I really do believe that beauty is about your heart or your spirit. I don't believe there is any such thing as ugliness".
Though I feel a little as though I have stumbled into a 'motivational speech' scene from an inspirational movie, it's hard not to be charmed by Goss's absolute sincerity. It would be easy to write off the way he talks about his projects as cynical pandering, but somehow you get the feeling that this is an actor who genuinely loves his craft and just wants to tell everyone about it. And, as I wrapped up the interview thanking Goss for being such a gent, it occurred to me that we probably need more actors like that.
Interview with a Hitman is out today. Look out for a BFF review soon!
About The Author