Put Down the Script and Stick to the Mic!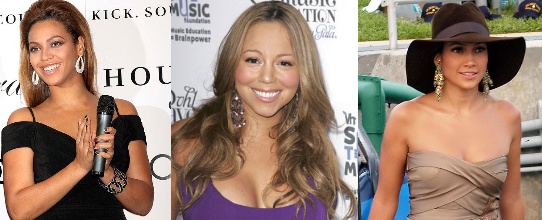 Is it better to be really good at one thing only or distinctly average at lots of different things? Once you find what it is you're good at then just go with that, right? There's no need to try your hand at anything else. Take the warblers and crooners for example; mainly the ones that sing about love, relationships and all that romantic crap. They should just stick to their day jobs. There's absolutely no need for them to attempt a career in acting because quite frankly, it's embarrassing for everyone. But alas they do!
Mariah Carey is probably the best female vocalist in the world. She's also 40 years old, a bit of a cradle snatcher, and really good at getting people to airbrush her meaty legs for her album covers. As far as her acting skills go though…well. If we're taking her film Glitter into account she's probably the worst actress of all time. Firstly who would call their film 'glitter' apart from a 6-year-old girl who is into arts and crafts? Secondly what kind of a tagline is, "In music she found her dream, her love, herself…" *Vomits* Mariah, stick to music then yeah? Glitter is probably the worst film in the world. As good as Mariah is a singer, that's how bad the film is. Maybe even worse.
It comes as a big surprise therefore that Mariah's latest acting role has received good reviews.  She's taken on a serious role, in a serious film, about serious things. And apparently she's good! Shocking, we know. She plays the role of a social worker in Precious – Lee Daniel's adaptation of Sapphire's novel Push, about child abuse. Deep stuff right? This must definitely be a fluke because we all know that singers turned actors usually result in an epic fail.  I don't understand what posses musicians to even consider making films let alone actually doing it. As we quickly run through some of the worst films starring some of the most successful artists as the failing protagonists, it's clear that they should've just stayed in the studio.
1) Madonna
Queen of pop. Dances with jailbait boys in her videos. Going out with Jesus. Whilst all these things might look great on her CV, its probably best she leaves out Swept Away, Evita and The Next Best Thing. The most credible out of the three is probably Evita but Madge should've known better than to do a film about being stranded on some remote island. If it doesn't involve a catchy chorus, awkward dance moves and shiny leotards then we're not interested.
2)David Bowie
80's legend? Definitely. Jareth the Goblin King? Really David? Pontius Pilate? Really David? No. Step away from the crystal ball, take off your robes and stick to featuring on soundtracks because you're actually quite good at that.
3)The Spice Girls
Perhaps the most famous female collective since the suffragettes thought a film called Spiceworld would triple their merchandise and their bank accounts. They may have been right but its still one of the worst things British cinema has brought us. Meatloaf is in it too – lowest point of his career thus far we'd say.
4)Beyoncé Knowles
Diva. Great thighs. Great weave. Great voice. If we don't count Dream Girls, which was actually alright (mainly thanks to Jennifer Hudson), Mrs. Jay-Z is not so great an actress. Her stint in Carmen: A Hipopera was ok for what it was, but after her appearance in films like The Pink Panther and Austin Powers: Goldmember, she is better off avoiding movies at all costs.
5)Jennifer Lopez
One of the most clichéd actresses of all time has brought us nothing but films about struggling Latinos, "singing"/dancing, and cringe-inducing Romeo and Juliet-esque love stories. Whilst we need these films to allow most 16 to 30 year old females to function/gain unrealistic expectations of love, La Lopez is the flattest actress since Britney 'I'm gonna do a film about losing my virginity' Spears.
Need we continue? To be honest Beyoncé we'd much rather listen to you singing about how you're Dangerously In Love, than watch you make a fool of yourself in a rubbish movie alongside Cuba Gooding Jnr. Oi Britney, it's actually more entertaining seeing you meltdown in front of the paparazzi, so next time you're tempted to reach for a movie script, go for the electric razor instead. As for you J.Lo maybe you should give up the music career as well as the acting – stick to what you do best: wearing tight dresses that make men hot under the collar and women green with jealousy over your epic, erm…'culo'.
The thing about a lot of these films is that they all have a music themed plot running through them. This proves that these actor, singer, and jack-of-all-trades-idiots should leave the acting to the actors and carry on hitting those high notes. So Mariah, some of us are kind of hoping that when we eventually watch this film, you're a bit crap in it really. Because frankly you can't be a good actress and a good singer. Otherwise this article wouldn't make any sense and we wouldn't want that now would we?
About The Author