RIP Roger Ebert

In the best traditions of Best For Film, I had intended to write this blog as a Top 10. Top 10 Roger Ebert Reviews, Top 10 Roger Ebert Zingers, Top 10 Moments in Which Roger Ebert Reduced Vincent Gallo to a Snivelling Mess, whatever – it's not hard to churn out something of that kidney. But I haven't been able to do it, even though a page of beautifully wrought one-liners like "Watching Mad Dog Time is like waiting for the bus in a city where you're not sure they have a bus line." would certainly be more fun to read than this.
I never met Roger Ebert, obviously. I can't claim the honour of being one of his Far-Flung Correspondents, although for the last four years it's been on the to-do list I only consult on optimistic days. I can't even gloat about him tweeting one of my reviews, which seems to be what most of Twitter was doing last night. I'm just a fan. Isn't that an awful word? Short for 'fanatic' but without even that word's mad-eyed lunatic authority, to a twenty-first century audience it conjures up nothing more dignified than the legions of teenage idiots who go by @MrsxXxBieber and @RihannaStan95. I'm a fan, and a film critic, and Roger Ebert inspired both the adulation and the job itself like nobody else. And now he's dead, and although the house lights are coming up the bulbs seem dimmer for his absence.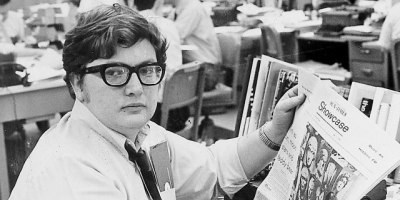 Roger Joseph Ebert was born in 1942, the grandchild of German immigrants – perhaps, although I recognise this is absurd speculation, the grounding for his lifelong habit of calling out what he saw as discreet fascism in Hollywood. He began writing in his teenage years, corresponding with other science fiction fans in the letters pages of his favourite magazines (see, sometimes fandom isn't arrant nonsense) and writing sports reports for his local paper (that is arrant nonsense, but now's not the time to judge). After juggling his studies with a series of college paper commitments for several years, in 1966 Ebert found himself applying to the Chicago Daily News as he began his doctorate at the University of Chicago. The Daily News referred him to the Chicago Sun-Times, the newspaper for which he worked until yesterday, and after a year as a reporter he was unexpectedly promoted to film critic. Oddly enough, the Chicago Sun-Times announced his appointment forty-six years ago today, in an article so important it made it all the way to page 57.
Over the next few years, Ebert's exploits outside the newsroom included co-writing the justly infamous Beyond the Valley of the Dolls with Russ 'all of the tits, all of the time' Meyer, working on the failed Sex Pistols film Who Killed Bambi? and lecturing at the University of Chicago. In 1975 he began co-presenting a local film review show, around the same time that the BBC were trialling a similar format – however, when the show was picked up for national distribution and rival critic Gene Siskel was recruited as his co-host, Ebert found his perfect foil. Various incarnations of At the Movies with Siskel & Ebert (which is actually one of the few things the show was never called) aired over the twenty-one years up to Siskel's death in 1999. Following Siskel's death, also from cancer, Ebert continued to present the show with a rotating series of guest co-hosts and eventually with fellow critic Richard Roeper. But after thirty-odd years of giving one of his and Siskel's trademarked Two Thumbs Up, Ebert finally retired from the show in 2006 when ill health made it impossible for him to continue his role.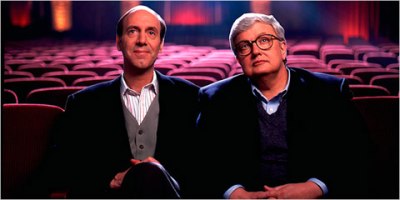 Roger Ebert spent more than ten years living with thyroid cancer, a condition which necessitated a series of increasingly severe and damaging operations in the mid-2000s. He was eventually left with no lower jaw, unable to eat or speak. After using a series of computerised voices à la Stephen Hawking, Ebert recently adopted a new speech module painstakingly created from decades of his recorded speech, restoring his voice after years of silence – a team of dedicated fans spent months working on the project before they even contacted Ebert to tell him of their plan to restore the voice that sunk a thousand awful films. Ebert coped remarkably well with the limitations of his illness, writing a cookery book after he lost the ability to eat and becoming unprecedentedly chatty on Twitter after he lost his voice, but just a few weeks ago a suspected hip fracture from December turned out to be cancerous. Emergency radiation therapy proved unsuccessful.
In an article entitled 'A Leave of Presence', published just two days ago, Ebert said that after averaging 200 reviews a year over his career he had passed the 300 mark during 2012, and that despite his ill health he would continue to critique the films he was most passionate about while working on his website, his spectacular social media presence, his personal festival Ebertfest and, of course, his convalescence. The redesigned Rogerebert.com, which is due to go live on April 9th, will house more than 10,000 of his reviews; to put that into perspective, Best For Film's seventy-five writers have published a little over 1,300 reviews between us in the past three and a half years. Over the course of those ten thousand reviews, Ebert became the first film critic to win the Pulitzer Prize for Criticism and the only film critic ever to earn a star on the Hollywood Walk of Fame. For any other critic – hell, any other writer – those two accolades might justly be regarded as the high point of a successful career. But this is Roger Ebert, and I think it speaks volumes that I didn't even get to them until paragraph six.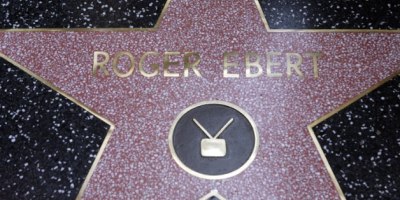 There's virtually no point in detailing any more of Ebert's achievements, because his colleagues, friends and admirers have already poured forth tributes with much more authority than we could possibly wield. But tubby, bespectacled Roger Ebert, never timid when it came to delivering a four-star paean to a favourite film or a half-star excoriation from the balcony (never a pulpit – his reviews always included the reader and the audience rather than pushing them to the foot of his ivory tower) remains the best film critic I've ever read. I doubt there's been a single day in the short history of Best For Film Towers when he hasn't been referenced, quoted or otherwise used as a critical yardstick – an Ebert endorsement is generally enough to tip the balance of any argument over a film's merits, unless the film in question is Speed 2: Cruise Control. Ebert's positive review of the latter film is solely responsible for the 2% 'Fresh' rating it managed to score on RottenTomatoes – reassuring proof that he was, indeed, human.
Heavens, but this has rambled. Roger Ebert leaves behind his wife Chaz Hammelsmith (who he married at the age of fifty after, according to his memoir, waiting for his mother to die so she couldn't disapprove of his marriage). In a way, I hope that he's found Siskel somewhere and is arguing with him about To The Wonder, the subject of his last review; however, given Ebert's belief that supernatural claims were best described as "woo-woo", perhaps I shouldn't. But whether or not there's a celestial screening room waiting for Roger, the credits are imminent and it's time to wrap this up. So, in closing, here are three quotes – two on the occasion of Roger Ebert's passing, and one anticipating it.
---
"Roger Ebert was one of the great champions of freedom of artistic expression. When the power of independent film was still unknown and few would support it, Roger was there for our artists. His personal passion for cinema was boundless, and that is sure to be his legacy for generations to come." – Robert Redford
"Roger was the movies. When he didn't like a film, he was honest; when he did, he was effusive – capturing the unique power of the movies to take us somewhere magical." – Barack Obama
"I know it is coming, and I do not fear it, because I believe there is nothing on the other side of death to fear. I hope to be spared as much pain as possible on the approach path. I was perfectly content before I was born, and I think of death as the same state. What I am grateful for is the gift of intelligence, and for life, love, wonder, and laughter. You can't say it wasn't interesting. My lifetime's memories are what I have brought home from the trip. I will require them for eternity no more than that little souvenir of the Eiffel Tower I brought home from Paris." – Roger Ebert
---
See you at the movies, Roger.
RIP Roger Ebert
1942-2013
About The Author