TGIM! You're Gonna Need A Bigger Boat
I can hear the question buzzing across the lips of the nation already. Do highly-acclaimed and financially-lucrative film-appreciation team Best For Film like pub quizzes? What a stupid question, OF COURSE WE DO! The opportunity to show off that we know our Ewoks from our Evocii and inform the world: "Did you know that, not counting Twin Peaks, Wild at Heart is the only one of David Lynch's films to have a sequel? What's it called? I'm so glad you asked. Perdita Durango", whilst spending an inordinate amount of time trying to think up a hilariously punned quiz team name AND drinking in a fashionable area of East London. WHO WOULDN'T LOVE IT?! That's why this week we're sharing with you this unexpected treat – the Big Momma's House of all quizzes (in size, not quality) – the Review of the Year quiz from the You're Gonna Need a Bigger Boat team at Hackney Picturehouse Attic.
You're Gonna Need A Bigger Boat PUBlicises itself as the pub quiz for the 21st century. So that means no mumbling quiz-masters crackling down a karaoke machine! And no more of the eternally quizzical questions: "What was that he just said? I missed it. Snape's on a Plane?! What's that?! How did JK Rowling lend her name to such a shameless spin-off? And how would Alan Rickman's nose even fit on the plane in the first place?!". No no, dear readers, with You're Gonna Need A Bigger Boat we have reached a new pinnacle of quiz, much like the 2013 remake of a similar name, this is Les Quizerables for a new era.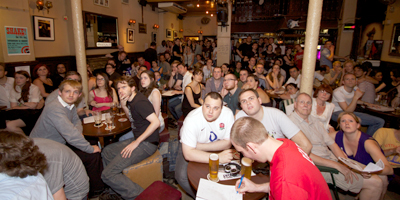 As the suitably quizzical-looking bearded man to the left of centre may well be saying: WHAT IN THE NAME OF QUIZ IS THIS??
You're Gonna Need a Bigger Boat was birthed as the artificially inseminated brainchild of Paul Hupfield and Stewart Williams, who made it their mission to start the best darn pub-film-quiz-night in the world. Well, in London. Which, for people that live in London, is the world. Unfortunately Paul and Stewart called it quit(z)s in 2005 and ex-contestants-turned-organisers Simon Williams (probably no relation to Stewart) and Lee-Jay Bannister (so good they named him two different names) took over. Simon whispers sweet nothings down the microphone whilst Lee-Jay sits behind a curtain like the Quizzard of Oz pressing buttons and making whirring noises with his mouth. Here they are being glitzy at the Ritzy.
As you can tell from their repetition of the phrase "audio-visual", Simon and Lee-Jay are very proud of the fact that their take on the pub quiz incorporates the multimedia edge that so many lack. They make an excellent point that there would be little point in running a quiz about films that fails to engage with the audio-visual elements that go into, well, all of them. The Hackney finale to the quizzing season, comprising an overview of the year's cinematic events, starts tomorrow night at 7:30pm at the Hackney Picturehouse. Tickets cost £3.50 and are released on the door at 6pm and apparently there will be food available for all you early birds out there! There are no restrictions on team size so Best For Film will be bringing the entirety of their office staff. All four of us. Prizes are awarded for first, second and third places and they are, of course, film-related. Past winners have received cinema tickets, DVDs, Star Wars Monopoly, Lord of the Rings Trivial Pursuit (presumably with rings instead of cheeses), a talking Gollum, and a life-sized face-hugger from Alien. Perfect for the season of regifting!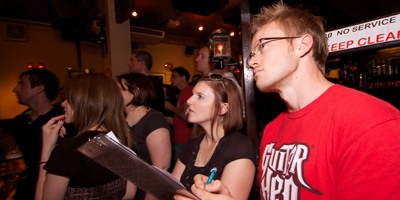 You're Gonna Need a Bigger Boat started at the Boogaloo pub in Highgate, spreading like a dystopic virus to the Ritzy Cinema in Brixton and now the Hackney Picturehouse, unsurprisingly, in Hackney. The quizzes are monthly plunges into the mire of cinematic trivia, lasting just over two hours, with a half-an-hour interval strictly NOT to be used to search IMDb. Frankly, we expect to see you all there tomorrow night basking in the warmth of Simon and Lee-Jay's projector, whilst boring your friends rigid with comical anecdotes in the vein of: "Did you know that during an on-set visit to the Jaws team, George Lucas put his head in Bruce the Shark's mouth and Steven Spielberg closed the jaws, causing a prop malfunction that trapped Lucas' noggin? WHAT KOOKS!"
If this isn't enough to make you scream from a hot-tub-scattered roof 'THANK GOD IT'S MONDAY!!', then heaven knows I'm quizerable now.
About The Author