WigWamBam Halloween special at Queen of Hoxton

Perched atop the Queen of Hoxton, a giant wigwam glows warmly in the frosty October night. It's more of a teepee, but we won't split hairs. Playing host to a special Halloween screening, WigWamBam returns to the Queen this winter to offer another toasty few months of nostalgia in the tradition of communal festival campfires. Last year it was a roaring success, with its drinks menu of mulled wine and hot toddies perfectly complimenting the impressive Schwenkgrill that hangs from the wigwam roof, loaded with juicy cuts of lamb, venison and hog roast. They even toast marshmallows! It's back until the end of March, and will again be accommodating a variety of one-off events, including last night's film screening of Rob Zombie's grisly horror flick The Devil's Rejects. We love seeing a film in an unusual setting (what, you think we'd just hit the pub on a weeknight?), so we jumped at the chance to cozy up with some trendy East-Londoners in their groovy wigwam.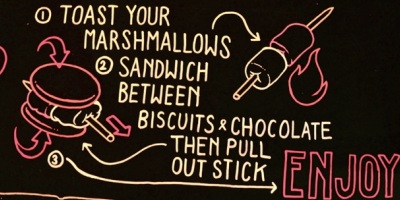 Going to see films at offbeat locations or as part of specially-programmed outdoor seasons has become hugely popular in recent years. Considering the average price of a cinema ticket and a trip to the concessions stand, it's not hard to see the appeal of watching a film under the stars with a bottle of plonk and a pack of cigs instead. Rather than brave the sticky interiors of a multiplex heaving with children, many have repurposed a night out at the movies as something both literal and a little more indicative of an event. This summer has seen the continuance of hugely popular cinematic excursions, from the seemingly evergreen Secret Cinema to the classy elevation of Rooftop Film Club into London's hearts and minds. Us? We went and saw a pop-up screening of The Graduate in Queen's Park, being the big bloody softies that we are.
That's another great thing about these pop-ups. They aren't beholden to showing the expertly-polished fecal matter doled out by Hollywood and beyond, so the programming is rooted in firm favourites and cult classics. OK, so we might never get to watch Adam Sandler's The Longest Yard on top of Wormwood Scrubs. But it's an added bonus that younger people should feel encouraged to see some great cinema on the roof of their local with a group of friends, rather than rooted three inches from a computer screen.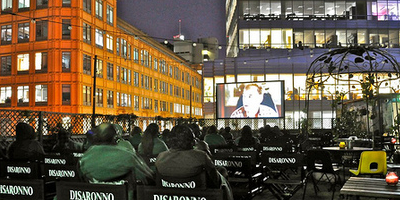 We couldn't decide whether to attend the Queen of Hoxton's Halloween screening as Gangnam Style or the Five Guys review guy. After test-driving both outfits, health and safety eventually dictated that neither was to own the night. Undeterred, we marched on to the Queen and upstairs to the rejuvenated WigWamBam and its special Halloween-themed eve. It's a nice place to be on a cold night. Inside the wigwam, a healthy audience mills about in their ghoulish finery, sipping mulled cider and spiced rum. No-one is douche-y enough to try and pull off the lazy narcissism of a James Bond 'costume', or thinks that Heath Ledger's Joker is still acceptable. These are good people. An intimate gaggle of chairs faces a projection screen, and after talking with a couple of zombies it's clear any cinematic event on the Queen's roof is something to book in advance.
Wandering outside for a cigarette (we're starting again in time to quit come January) we come across the aforementioned Schwenkgrill. It's outside tonight, as an enormous heap of smoking meat in the centre of a film screening might seem inappropriate. We couldn't think of anything more ideal but ho-hum, it's their night, not ours. A pair of cauldrons set up for apple-bobbing stand idle, most of the patrons wisely settled around a couple of bonfires spaced around the rooftop. It's not difficult to imagine having some great nights at the movies up on the Queen, so it's a shame tonight wasn't to be one of them.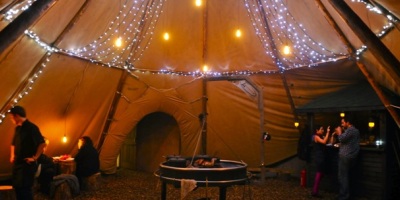 Why Rob Zombie's relentlessly sadistic The Devil's Rejects was chosen as a special Halloween movie is quite beyond us. A hammering crescendo of empty violence, thinking of the hundreds of classic horror films (old and new) that might have stood in its place brings a wistful sigh of longing for Leatherface, Michael, Freddy et al. Oh well. Bringing people together in such a warm and welcoming environment is nine tenths of what these events are about. Cherry-picking a great film to seal the deal should be an afterthought. A friend went to one of Rooftop Film Club's summer screenings at the Queen of Hoxton, and saw Dirty Dancing for the first time. This might have been a more ideal soundbite for the culture of cinema-less cinema than undergoing one of Rob Zombie's more watchable excretions, but never mind. The sensation barely exists regarding actual picture houses any more, so it's nothing less than heartwarming visiting a lovingly-crafted space worth returning to, regardless of what's on.
Cinematic excursions of this ilk are a little thin on the ground at the moment, with the remainder of the year firmly under winter's heel. Touring pop-up Nomad and Rooftop Film Club haven't posted any upcoming events, but the Secret Cinema juggernaut has just started up a new season. For many people, going to the movies has devolved into the worst kind of routine. So if you're tired of the same old adverts, the same stale popcorn and the same old films, why not dip a toe?
About The Author