'Cars 2' gets thrown on the scrapheap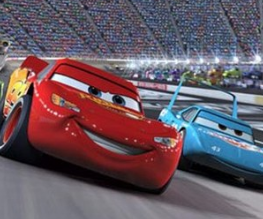 Cars 2, which was released in the US last week, has already hit the headlines with a mound of negative press, most of which is directed at its powerful God-like creator Pixar. For so long Pixar has been a wonder of Hollywood, producing award-winning films, but has the Pixar light bulb finally blown?
Oh Pixar, what happened? Having created such movie marvels such as The Incredibles, Toy Story 1, 2 AND 3, Wall-E, Monsters Inc. and Up, surely the newly released Cars 2 should be given a chance, right?
Well, apparently not. This shiny, just been waxed animated endeavour has been critically slammed and has been labelled as various examples of unflattering fruits; a 'lemon', and a 'rotten tomato' from, well you guessed it rottentomatoes.com (who consequently have awarded the latest Pixar creation a stinky 33% rating).
Though, with Cars being the lowest rated Pixar film on Rotten Tomatoes (74%), what were the American big-wigs really expecting with a rusty sequel that, according to cinemablend is 'one of the worst reviewed computer animated movies of all time'? Now even though no one said it directly, and even though we tried to approach it with the utmost optimism (despite the slightly dodgy trailer), we couldn't help but fear Cars 2 was going to flop.
New York Times critic A.O. Scott said "I doubt anyone will protest much, but Pixar has now found its redneck Jar Jar Binks." Not a good comparison for a leading car.
But don't despair yet, it's not all bad news. Out there – somewhere – are positive reviews.
The Times' Kenneth Turan gleefully wrote that "with engaging characters, a plot that ensures energy, and such a wealth of auto references … 'Cars 2' has a smooth, easy way about it."
But never-the-less, with Cars 2 being described as marking 'the end of their unprecedented run', Pixar appear to have stalled big time with this one.
About The Author