10 more pictures from Fincher's Girl With The Dragon Tattoo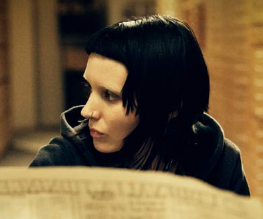 Truth be told, we really don't need any more promotional stuff from the Dragon Tattoo team. In actual fact, the initial teaser trailer (a rapid-fire, heart-pumping series of shots set to Led Zepplin's The Immigrant Song) was enough to convince us that this was a film we needed to see. But whoever's heading up the photography department is apparently jonsing for a promotion and frankly, we're not complaining. 10 new stills from the first in David Fincher's adaptation of Stieg Larsson's Millennium trilogy has hit the web, and we're going to look at them RIGHT NOW.
First up we have Lisbeth (Rooney Mara), looking like she might be doing some investigating…
investigating who took her eyebrows, perhaps?
A lot of serious clothes will feature, of that we can be certain.
EVEN A LOVELY BATH IS SERIOUS
There's Mikael Blomkvist (Danny Craig) and Erika Berger (Robin Wright), doing some investigative journalism to the tune of Wearing Some Glasses
… meanwhile, Lisbeth isn't the kind of girl who gets tied down to concepts like tables.
Probably just talking about The Hills or something, it's nice to have some downtime.
COME ON DECEMBER, HURRY UP SO WE CAN WATCH THEM TALK ABOUT THE HILLS
About The Author