10 yr-old stops TV advert for Saw 3D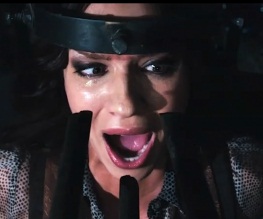 A ten-year-old boy has won a banning order on the TV trailer for horror film Saw 3D. The trailer was cleared by the ASA (Advertising Standards Authority) for screening past 7:30pm, but can now only be shown after the watershed. The film is the seventh sequel in the torture-porn series, the 3D aspect allowing visuals such as blades flying towards the viewer.
The ASA stated: 'We considered that, although the ad was based in fantasy, the scenes of people in the cinema – particularly those where they were suddenly trapped by metal restraints- linked the scenes from the film with a recognisably real situation.'
A comment on the Daily Mail website by Paul, from Harrow, said: 'This filthily [sic] depraved genre of filmmaking exists only for the sake of satiating the ghoulish wanderlust of coarsened, thrill-seeking minds darkened and numbed by the total absence of empathy.'
What's that, Paul? Oh, it's just me and my ghoulish wanderlust heading towards Saw 8.
About The Author