22 Jump Street continues to look ace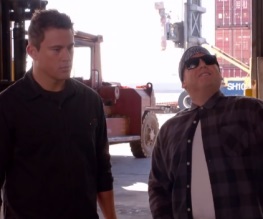 If you're not that interested in 22 Jump Street, then you might as well not stay here – go read this thing about shagging animals, that's exactly the sort of weird thing you probably dig. But if, like us, you thrilled to the exploits of Schmidt and Jenko back in 2012 and are counting the hours until they're back on your screens, we've got the perfect Friday treat for you – a new trailer that's almost exactly the same as the old one.
As far as we can make out, there are only four scenes in this trailer that weren't in the last one, but that'll definitely do us for now. American football we can take or leave, but an octopus AND a Rihanna joke AND some Mexican accents? That's a full plate from the Tasty Trailer Buffet Bar, yes sir. Have a watch:
As far as we can tell, the format of 22 Jump Street is identical to that of its predecessor – Jonah Hill and Channing Tatum enter an academic environment in search of drugs, fire their guns far too often and run up against some kooky dealers. Plus Dave Franco and Ice Cube are back. We have no problem with any of this.
22 Jump Street is out in June sometime. We're not going to look it up, because we don't want to seem like we're trying.
About The Author