300: Rise Of An Empire and All You Need Is Kill delayed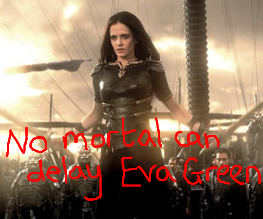 300: Rise Of An Empire and Tom Cruise's All You Need Is Kill have both been delayed, probably in an attempt to remove them from competitive release windows. Although this would normally signify that the studios have no faith in their title, the number of blockbusters over the next year is a little intimidating, especially for these less-than-certain successes. No one thought these films would be groundbreaking, but it's a little sad nevertheless.
300: Rise Of An Empire features naked dudes impaling each other with spears and other phallic devices. Rodrigo Santoro will be reprising his role as massive bald omni-sexual Xerxes. That'll be exciting won't it? Right? The film is getting booted from August 2013 to March 2014, which is a delay of 8 months. Impressive. We guess the film reel for 300: Rise of an Empire will just be sitting on a desk gathering dust for a while.
All You Need Is Kill features Tom Cruise doing what he does best: repeatedly getting killed until he learns not to get killed. The bizarre plot actually sounds rather fun, we like a good Tom Cruise sci-fi here at Best For Film. The film was set for release in March 2014, but is now moving to the blockbuster season – June 2014. Maybe the studio has faith in the film after all.
A little sad about the 300 sequel being pushed back? Let us know in the comments below!
About The Author