A Kind of Magic will shoot in 2012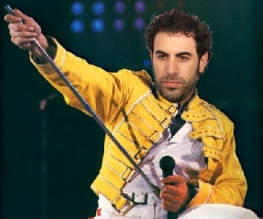 Legendary producer Graham King has told Cinema Blend that his long-awaited Freddie Mercury biopic – in which Sacha Baron Cohen is scheduled to star – will begin to take shape next year.
King has just finished working with Baron Cohen on Hugo, the latest film from Martin Scorsese (for whom King has also produced films including The Departed and Gangs of New York), and is apparently keen to crack on with the tentatively titled A Kind of Magic. Screenwriter Peter Morgan (Frost/Nixon, the 'Blair Trilogy', Tinker Tailor Soldier Spy) had produced a script as of last year, but whether it's still being used is anyone's guess.
However, the incessantly busy King is already planning a Tomb Raider reboot and an adaptation of Jersey Boys, the musical about Frankie Valli and the Four Seasons, for 2012. Will there be room for Freddie? We do hope so – his patchy filmography and irritating wife aside, Sacha Baron Cohen's exuberant talent for throwing himself into larger-than-life characters does seem to be a pretty snug fit for the man who, when asked what he'd like to change about himself, replied: "I don't like the way my teeth protrude. I'm going to have them done, but I just haven't had the time. Apart from that, I'm perfect." LAD.
What do you make of the plans for A Kind of Magic? Let us know below!
About The Author