A Team The Movie – new trailer released!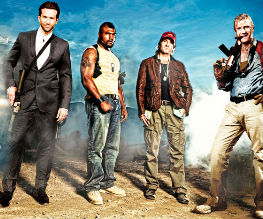 Attention fans of the cult 80s series – a new trailer has been released for one of this summer's most anticipated movies. The 20th Century Fox produced affair, eponymously entitled The A-Team, sees a quartet of Iraq War vets trying to clear their name with the U.S. military for a crime they did not commit.
Unfortunately the film will not be featuring the talents of Mr. T (unconfirmed jibberjabber suggests that he was too busy with his Snickers and World of Warcraft commitments to reprise the role of B.A. Baracus), but his illustrious shoes will be filled by MMA madman Quinton "Rampage" Jackson. Liam Neeson, Bradley Cooper and Sharlto Copley complete the A-Team foursome. As an added bonus, cinema-goers will get to see the lovely Jessica Biel in the role of Lt. Carissa Sosa.
A UK release date has been set for 30th July 2010, but in the meantime, we recommend that you excited souls check out the trailer here.
Blown away by the new A Team trailer or pity the fools who made this movie? Let us know below…
About The Author