Adam Sandler to remake 'Three Men and a Baby' with gay twist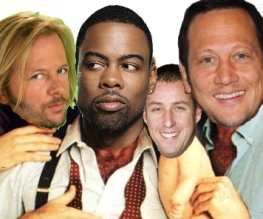 You'd think after the horror that was Grown Ups Adam Sandler would want to stay out of the news as much as possible. Not so, apparently, as after completing production on the forthcoming I Hate You Dad and Hotel Transylvania, he looks to be jumping into the producer's chair again to work on a remake of the 1980s classic Three Men and a Baby. But with one minor alteration…
The remake will still centre on three male protagonists, with David Spade, Chris Rock and Rob Schneider taking on the roles Tom Selleck, Ted Danson and Steve Guttenberg made famous. However, this time instead of three straight house-mates they'll form a polygamous gay family unit, in what is the logical next step for the Judd Apatow bromance genre.
Now, forgive us for casting the first stone, but we can't really imagine a film in which David Spade, Chris Rock and Rob Schneider play a polygamous gay family being the most politically correct representation of homosexuality. In fact, it'll probably be bloody awful, and at the very least won't be as good as the original.
It'll almost certainly be called Three Men and a Gayby, mind you. Sigh.
About The Author