Adam Sandler to voice Count Dracula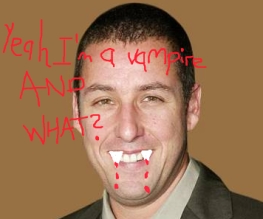 Adam Sandler has been revealed as the voice of Count Dracula in the upcoming animated 3D adventure from Sony, Hotel Transylvania. Now be warned, this news story is going to include just as many groans as woops of approval, so best not to get too excited.
Sandler joins a cast that already includes the likes of Kevin James (groooan), Andy Samberg (woop!) David Spade (GROAAAN!) and Steve Buscemi (WOOOP!). The plot sounds ridiculous enough: Count Dracula, as well as being a nefarious blood-sucking ghoul, is also an overly protective father of his teenage daughter, Mavis. To protect her further, he sets up a hotel where she, and some of the world's other monsters, can relax away from the world of humans. However, things are about to get turned upside down when a regular guy (Samberg) stumbles upon the hotel and takes a shine to Mavis…Groooan.
The film is to be the first big screen outing for director Genndy Tartakovsky, the genius behind Samurai Jack (woop!) and Dexter's Laboratory (WOOP!), so expect a visual extravaganza to go alongside Sandler's everyman approach to comedy. On the writing side will be David I. Stern, who wrote both Open Season 2 and Open Season 3…we didn't know they existed either. This one's slated for a September 2012 release.
What do you think? Will this just be the same old Sandler in a different disguise? Does it just make you want to watch Count Duckula and Transylvania Pet Shop? Let us know!
About The Author