Alex Pardee and His Mind Blowing 'Scream' and 'A Nightmare on Elm Street' Posters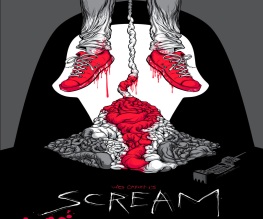 Mondo, the collectible art boutique arm of Alamo Drafthouse Cinema, has just announced Wes Craven as the next filmmaker for their "Director's Series", featuring both classic and contemporary films from the master of suspense. Mondo kicks things off with artist Alex Pardee's stylishly gruesome takes on Craven's two icons of fright – Freddy and Ghostface – for A Nightmare on Elm Street and Scream. Additional titles scheduled for the Mondo treatment include Swamp Thing, The Hills Have Eyes, and The Last House on the Left.
Past inductees to the Mondo Hall of Fame boast big names like Guillermo "Hellboy" del Toro, Duncan "Moon" Jones and Zack "300" Snyder, but we're not gonna lie, nothing translates into monochromatic shades of blood splatter and fear quite as well as Craven.
To get your poster-sized slice of gutted awesomeness, follow @MondoNews for tomorrow's online sale announcement.
About The Author