Anchorman: The Legend Continues gets a new teaser trailer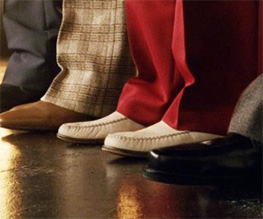 Ever since hearing that Anchorman: The Legend Continues was getting made everyone at BFF Towers has been chewing their nails, wondering whether this is the best or the worst idea in the world (n.b. probably the worst). When it came out in 2004, the original wasn't quite like anything we'd ever seen before – part spoof, part surreal adventure, part Steve Carell blowing our minds. Of course, nine years down the line, you simply can't go around telling people your favourite film is Anchorman. Just try putting "I ate a big red candle" as one of your favourite quotes on Facebook. Try it! People will JUDGE YOU. Essentially, Anchorman has become a film cursed by its own popularity. After a while, the regurgitated lines – delightful to begin with because they're so unexpected – just stop being funny, and after that they actually start to grate.
So what's up with doing a sequel, after nearly a decade? When Will Ferrell has been tainted by a string of unfunny flops? When comedy these days is about naturalism, not surrealism? Well who knows, but today another teaser for the sequel has been released and it's…well, it's a bit nothing really.
Of course, this isn't giving away much. But we can't help feeling even this little snippet doesn't bode well. Despite the comedic talent on show, despite the huge list of celeb cameos involved, despite the fact that the jokes will probably be just as funny on paper, we fear we won't laugh. Where the first was a gleeful eye-opener, the sequel looks as though it might just close the chapter on this style of comedy for good.
THEN AGAIN MAYBE WE'RE WRONG MAYBE THIS WILL BE AMAZING!!!! We can always hope, can't we?
Anchorman: The Legend Continues! will be out in the UK on the 20th December. Do you think it's going to live up to the original?
About The Author