Andress and Hepburn named most beautiful women from films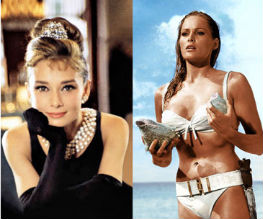 If the results of Radio Times' latest poll are anything to go by, men might actually descend from Mars and women may hail from Venus. The magazine's quest to discover the nation's favourite film siren saw Ursula Andress top the list voted by men, with Audrey Hepburn triumphing in the women's poll.
Andress, famed for her performance as buxom Bond girl Honey Ryder in 1962's Dr. No, beat off competition from Sigourney Weaver (2nd – Alien), Carrie Fisher (3rd – Star Wars) and Jane Fonda (4th – Barbarella) to land the top spot. Hepburn, revered in her role as  the classy Holly Golightly in Breakfast at Tiffany's and ranked 5th in the men's poll, finished ahead of Julie Andrews (2nd and 3rd – The Sound of Music and Mary Poppins), Judy Garland (4th – The Wizard of Oz) and Julia Roberts (5th – Pretty Woman).
Alluding to the fact that the nation loves a good ol' temptress, film critic Barry Norman told Radio Times readers: "You seem to have a penchant for naughty girls, women who play hookers: Catherine Deneuve in Belle de Jour, Julia Roberts in Pretty Woman and, of course – top of the heap – Audrey Hepburn in Breakfast at Tiffany's, although in the demure age in which it was made, just before the swinging sixties got under way, the nature of her profession couldn't be specified." Whatever you say Barry.
Agree with the Radio Times' most beautiful women from the silver screen or shocked at the exclusion of Megan Fox in Transformers? Let us know below…
About The Author