Angelina Jolie's Maleficent gets first trailer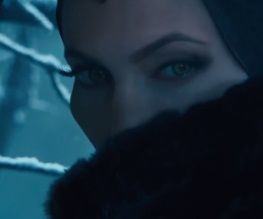 Maleficent, Disney's latest attempt to cast light on the story of a hitherto unpardonable villain (the witch, not Angelina Jolie), has received its first trailer some six months before it's due to hit screens in the UK.
Starring Jolie as the horn-hatted Sleeping Beauty baddie and Elle Fanning as her ill-fated quarry Aurora (she of the sheltered upbringing and unfortunate lack of aichmophobia), Maleficent seeks to repeat the success of stage musical Wicked, which fleshed out the back story of The Wizard of Oz's Wicked Witch of the West. All the classic elements – stupid headgear, unwieldy hedge, gratuitous use of shadow – are there – but can Maleficent retain the charm (and occasional terror) of its inspiration? Anyway, enough of our jawing – have a watch and see for yourself:
Directed by Robert Stromberg, visual effects guru but first-time director, and featuring a galaxy of stars including Juno Temple, Peter Capaldi, Miranda Richardson, Sharlto Copley and Imelda Staunton, Maleficent will be summoning a forest of thorns around YOUR local cinema on May 30th 2014. We're quietly excited, although it seems obvious to us that big thorns are much easier to avoid than little ones. Twenty feet of brambles, Mally, that's what you want. And it's still never going to be as scary as this:
Shudder. Now that's an evil witch.
Will you be seeing Maleficent? Let us know below!
About The Author