Anne Hathaway to star in My Fair Lady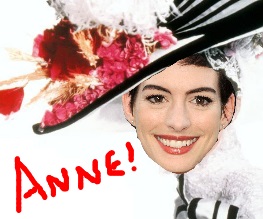 Anne Hathaway has reportedly been lined up to play Eliza Doolittle in an upcoming screen adaptation of My Fair Lady. Which means that, yes, we would get to see her try and wrap her tongue around the hugely distinctive Cockney accent.
According to The Sun, famed for being one of the most reliable and up-to-date movie news sources out there, producer Cameron Mackintosh (who worked with Anne on Les Misérables) is behind the project – and desperate to recreate the Oscar-winning movie's success. How better to do it than by getting Anne Hathaway on board, eh? She bloody LOVES winning Oscars for her music.
"Cameron feels having Anne on board will help replicate the success of Les Mis."
But what about that Cockney accent? We all KNOW Anne Hathaway has issues when it comes to any accent that is not her own. Just check out her nonsensical gurgles in One Day if you don't believe us. Apparently she's supposed to sound like she's from the Yorkshire Dales. But, in reality, she actually sounds like a genetically modified badger, struggling to get to grips with the English language.
So does Cameron Mackintosh have a contingency plan for Anne Hathaway's little issue with accents?
"The cockney accent won't be a problem. She'll pick it up in no time."
Apparently not. Then again, Audrey Hepburn – who played Eliza Doolittle back in 1964 – wasn't exactly dynamite with the old rabbit-and-pork either, was she? DON'T SHOUT AT ME, HEPBURN FANS – IT'S NOT UP FOR DEBATE!
See? It's almost as completely mad as Dick Van Dyke's attempts to spit out those Cockney-ised words in Mary Poppins…
So maybe an accent isn't everything, eh? Maybe it's all about having a warm and lovable on-screen presence. Maybe it's all about having a great singing voice (unless you're Audrey, in which case you can lip-sync). MAYBE ANNE HATHAWAY CAN MAKE THIS WORK, YEAH?
Do you think Anne Hathaway should star in My Fair Lady? Or would you prefer her to stay the hell away from Eliza Doolittle?
About The Author