Annie to get an earlier release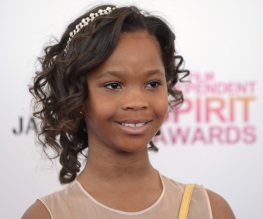 Will Smith and Jay-Z's long-awaited adaptation of Annie has got a brand new release date – a whole week ahead of the old one.
The 'contemporary reimagining' of the classic Broadway musical, most famously filmed in 1982, is being ruthlessly updated with music from Jay-Z and Jamie Foxx playing Daddy Warbucks' 2010s analogue Benjamin Stacks.
Beasts of the Southern Wild star Quvenzhané Wallis has inherited the title role from Smith's daughter Willow, when after three years of snail's-pace development she was considered, at twelve, to be too damn old.
Anyway, this is all old news. Today's top story is that Annie, which was originally due to hit cinemas on Christmas Day 2014, will be arriving a week earlier on December 18th. This makes good sense for a number of reasons. Most obviously, the production – and Quvenzhané in particular – are being set up as major Oscar contenders. But the date change could also have an effect on Annie's bottom line. The Christmas release would have meant competing not only with Angelina Jolie's Unbroken and who-on-earth-greenlit-this nonsense Night at the Museum 3, but with musical monster Stephen Sondheim's Into the Woods – the film most likely to steal Annie's audience.
Moving to the 19th means that Annie will skip into cinemas in the immediate aftermath of Ridley Scott's Exodus, Brad Bird's Tomorrowland and Peter Jackson's The Hobbit: There and Back Again; someone at Columbia has clearly decided that the Venn diagram for fans of biblical epics, sci-fi fantasy, sword-and-sorcery action and little girls singing simply doesn't exist. Who knows, they could be right.
Only 450 days to go! Are you psyched? We're not quite sure that we're psyched.
About The Author