Antonio Banderas named as Pope biopic frontrunner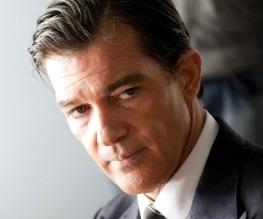 Antonio Banderas could be in the running to play Pope Francis, Vicar of Rome and literally our favourite priest ever, in a new venture by superstar Italian producer Pietro Valsecchi.
Valsecchi, who is basically the Italian Judd Apatow, made the comments on Italian TV show 2Next – you can watch the segment by following this link and skipping to about 21:30 minutes in. The actual mention of Banderas appears to have been cut from the online broadcast, but Valsecchi does say that he's keen to focus on Francis' work between 1976 and '79 helping the 'desaparecidos' of Argentina's notorious Dirty War, as portrayed in the Spanish language biography Francisco, el papa de la gente.
We're pretty much completely down with this news. There are a number of Pope Francis films in the works – one starring The Motorcycle Diaries' Rodrigo de la Serna – as well as Ridley Scott's forthcoming flick The Vatican, which will reportedly feature Bruno Ganz as some pontiff or other. Banderas can clearly knock them both sideways with sheer Hispanic popery.
Are you up for seeing Pope Zorro? Let us know below!
About The Author