Apatow to reprise Pete and Debbie from Knocked Up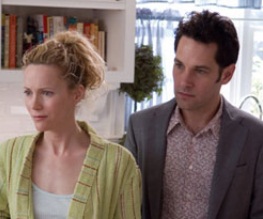 There's nothing wrong with just doing one thing, as long as you're doing it well. Judd Apatow, you have to admit, knows his strengths. We can confirm he's decided his next project will be centred on two characters he's already created: Pete and Debbie, the married couple from Knocked Up.
For our money, though Knocked Up isn't Apatow's best work to date (40 Year Old Virgin will always have our heart), its still bloody good. And Leslie Mann and Paul Rudd were both fantastic in their supporting roles as the caustic yet affable couple. But do they warrant a spin-off? Has the word "spin-off" ever actually come to represent anything truly not crap? Well, ordinarily we'd be rather worried but seeing as Apatow is once again writing, directing and producing we're cautiously hopeful. He's not put a foot wrong yet (this will be his fourth creation after The 40 Year Old Virgin, Knocked-Up and Funny People.), lets just hope his formula stays fresh.
Filming will start in LA this summer, with a preliminary release date of June 2012. More details as we gettem.
About The Author