Argo wins at Screen Actors Guild awards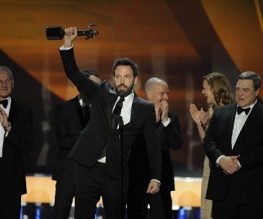 Argo, Ben Affleck's Iranian thriller, won the Best Film prize at the Screen Actors Guild (SAG) awards last night. This is the second award given to Argo in two days, along with a Best Film prize at the Producers Guild Awards, hinting at its possible Oscar success. The SAG awards are among the most watched award ceremonies because many of the 100,000 actors who vote for the awards are the same people who vote for the Oscars. Affleck said of his success, "There was absolutely no way I thought we would win this award."
For Best Actor, Daniel Day-Lewis won the award for Lincoln, and Jennifer Lawrence won for Silver Linings Playbook. Daniel Day-Lewis said on picking up his award, "It was an actor that murdered Abraham Lincoln and therefore it is sometimes only fitting that now and then an actor tries to bring him back to life again".
Jennifer Lawrence, who won her award over nominees such as Jessica Chastain (for Zero Dark Thirty), said "I want to thank MTV. I earned my SAG card when I was 14. I did an MTV promo for 'My Super Sweet 16.' And I remember getting it in the mail and it being the best day of my entire life, because it officially made me a professional actor, which put me in the category with all of you."
Tommy Lee Jones and Anne Hathaway won Supporting Actor awards for Lincoln and Les Misérables and Bryan Cranston won Best Drama Actor for TV drama Breaking Bad.
Ben Affleck said of his chances of winning the coveted Best Film award at the Oscars, "I don't know what's going to happen, nothing may happen, but it's a wonderful opportunity to be on the ride."
Does Argo deserve to win at the Oscars? Let us know what you think below.
About The Author