Arnie will be back… on a screen near you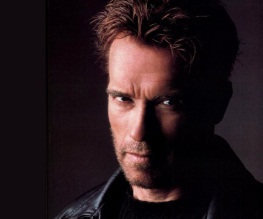 Arnold Schwarzenegger has ditched the politics and is rumoured to be considering a return to what he does best- acting. Or more precisely, being on screen. Any acting he actually does tends to be accidental as opposed to intended. Be that as it may, the film he is being linked to is a WWII drama entitled With Wings As Eagles, not to be confused with Where Eagles Dare, a WWII action film starring a young Clint Eastwood.
On the subject of Clint, Arnie has been quoted as comparing his acting career with that of the legendary actor-director, saying he too needs to be careful to choose less physically demanding roles now he is in his sixties. So that rules out more Terminator nonsense then, sigh. Instead of leathers, we might have to get used to the idea of Arnie in uniform. Although, if the plot is to stay as a German soldier rescuing POWs, then maybe we will be treated to the sight of Schwarzenegger carrying one under each arm as he escapes a burning building. That is hardly physically demanding for a bodybuilder, even one in his sixties!
About The Author