Arnold Schwarzenegger in new The Last Stand trailer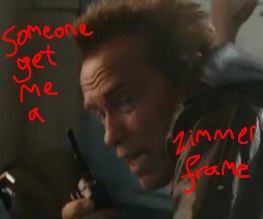 The Last Stand, Arnold Schwarzenegger's return to action, has a new promo clip, featuring Arnie wielding massive guns and running for his life, before being pinned down by a school bus. The film will be Arnie's first appearance in a leading role  in almost a decade, after Terminator 3: Rise of the Machines in 2003. After his two cameos in the two Expendables films, The Last Stand will hopefully see Arnold Schwarzenegger back on top form. Take a look at the new clip below.
Posters of the film reveal that Arnie will be fighting crime as a sheriff  along with Johnny 'Jackass' Knoxville as his inexperienced sidekick. It is when he is about to retire that he is challenged to stop a gang of ruthless criminals from smuggling a drug lord across the border.
Although the film's tag line is 'Retirement is for Sissies', critics of the film have already expressed their doubts that Arnie is up the challenge of playing a lead, aged 65. Let's not forget however, that Harrison Ford (now aged 70) made the fourth Indiana Jones film, Indiana Jones and the Kingdom of the Crystal Skull when he was 65, and is now rumoured to be making a fifth installment for release in 2015.
The film is directed by Jee-woon Kim, of The Good, The Bad, The Weird and I Saw the Devil, and also co-stars Forest Whitaker and Peter Stormare.
The Last Stand is released on Jan 25.
About The Author