Arnold Schwarzenegger reveals Terminator 5 role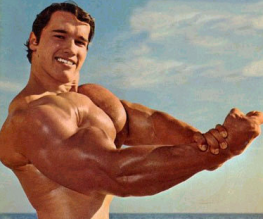 Arnold Schwarzenegger has given a couple of tidbits of his current schedule, now that he has fully re-entered the world of Hollywood after minor distractions like running California into the ground. Talking to TheArnoldFans, Arnold Schwarzenegger revealed that he WILL be the Terminator (shock), when Terminator 5 starts production (it's really soon) and the status of King Conan and Triplets. Arnold Schwarzenegger will have a busy 2014.
In the words of the incomparable Arnold Schwarzenegger:
"I'm very happy that the studios want me to be in Terminator 5 and to star AS the Terminator, when we start shooting in January".
January!? Blimey, they're moving fast. Paramount really really want a new Terminator film as quickly as humanly possible. We just hope they don't move too fast and churn out just another mediocre film. Arnold Schwarzenegger deserves more than that, dammit!
King Conan looks to begin filming straight after Terminator 5 wraps, it's a return for Arnold Schwarzenegger to the Conan role so he'd better start working out now. We're really excited for King Conan, the reboot of Conan The Barbarian a couple of years ago was just so very disappointing.
Finally (it's like Arnold Schwarzenegger's Christmas Special today isn't it?) he gave us this news:
"I'm getting the script in two weeks from now about the sequel to Twins, which will be called Triplets".
It looks as though Triplets is happening! Twins, with Arnold Schwarzenegger and Danny DeVito, was pretty damn funny, and the inclusion of the 3rd brother of Eddie Murphy should only ramp up the bizarre hilarity.
Expect all the beefiest Arnold Schwarzenegger news straight from the steroid syringe of Best For Film.
What's your favourite Arnold Schwarzenegger film of all time. Kindergarten Cop? Jingle All The Way? The Last Action Hero?
About The Author