Arnold Schwarzenegger to return as Conan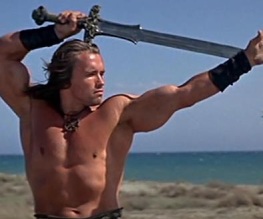 So incensed by last year's blasphemous shitpile Conan The Barbarian, the former Governator has decreed that, despite his 28-year absence from the role, Conan will live again.
The sexagenarian ex-bodybuilder/politician/star had this to say about the forthcoming yarn, penciled in for a 2014 release: "I always loved the Conan character and I'm honoured to be asked to step into the role once again. I can't wait to work with Universal and the great team of Fredrik Malmberg and Chris Morgan to develop the next step of this truly epic story."
Currently rebuilding himself as a movie star after a chequered career in political office, Schwarzenegger may find reprising one of his more athletic roles an interesting challenge. Having made a conscious decision to restart his film career in a reliably safe action vein, with The Last Stand and The Tomb coming up, we may have to wait a while before Hollywood deems the recently announced Triplets safe enough to begin production. Remember Twins? This is called Triplets. You get the idea.
Wanted screenwriter Chris Morgan pitches the tentatively titled The Legend of Conan as a film that will make use of Schwarzenegger's advanced years, seeking out the aged warrior as he is now. Morgan enthuses: "This movie picks up Conan where Arnold is now in his life, and we will be able to use the fact that he has aged in this story. I love the property of Conan so much that I wouldn't touch it unless we came up with something worthy. We think this is a worthy successor to the original film. Think of this as Conan's Unforgiven."
See you at the 2015 Academy Awards.
About The Author