Arrested Development season 4 imminent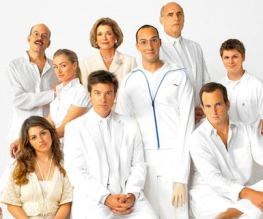 Arrested Development, one of the best written shows in US history, is making a comeback when the long-await season 4 lands all at once on Netflix on 26th May. All our favourite characters are back in true form, almost as if the series wasn't canned by Fox in 2006. The trailer is making us rather excited for the relaunch of Arrested Development, the climax of which will be the planned Arrested Development movie also due this year.
We're pissing ourselves laughing from the trailer alone. The whole Bluth family is back on form. Arrested Development was massively influential in comedy writing, and the entire cast had their careers made by the show. Let's take a look, shall we?
–Michael Cera (Scott Pilgrim Vs The World, Nick and Nora's Infinite Playlist, Juno, Superbad and set to appear as himself in This Is The End with the rest of Hollywood)
–Alia Shawkat (Ruby Sparks and The Oranges, in which she was brilliant)
–David Cross (writing credits for half of US comedies in the last few yeas, lead in The Increasingly Poor Decisions of Todd Margret, which was more cripplingly awkward than funny)
–Portia de Rossi (underrated comedy Better Off Ted, Nip/Tuck)
–Will Arnett (Blades of Glory, Despicable Me)
–Tony Hale (Chuck… that's pretty much it)
–Jason Bateman (Horrible Bosses, Identity Theft, Juno, Paul, Couples Retreat… he's done some bad films since Arrested Development, hasn't he?)
–Jessica Walter (she was Tabitha Wilson in 90210)
–Jeffry Tambor (The Hangover, The Hangover: Part II, The Hangover: Part III)
We can't wait for the new series of Arrested Development. Hopefully it all goes well, if it does we'll have the Arrested Development movie before the end of the year.
Why can't it be 26th May NOW? We have a feeling that we'll watch the entire season 4 of Arrested Development in one go.
About The Author