ASA bans Final Destination poster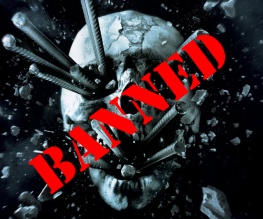 The Advertising Standards Authority has banned a particularly unpleasant poster for ghastly horror fivequel Final Destination 5 – more than three months after the film opened in cinemas.
You may remember avoiding screenings of Final Destination 5, the latest in a series of hackneyed, childish gorefests – now in 3D! – sometime around the end of August. You may also recall seeing the following poster (click it to enlarge) on buses and in Tube stations and so on:
Obviously, it's quite unpleasant – we said as much back in July, and we don't write these articles for the good of our health. Warner Bros attempted to justify the image by describing it as "surreal" and "unlikely to engage the attention of young children"; amazingly, that second point attempts to claim that as far as upsetting kiddies goes, the poster's less-than-eyecatching dark hues more than make up for the SKULL BEING SMASHED WITH STEEL RODS aspect. Full marks for optimism, chaps!
But is there really any point in banning the poster after both the cinema and DVD release dates have come and gone? If it needed banning (which it probably doesn't), then something should have been done back in July. This feels less like decisive action from the ASA and more like death throes…
Do you care? Does anyone? Let us know, or something.
About The Author