Avengers portraits and character descriptions revealed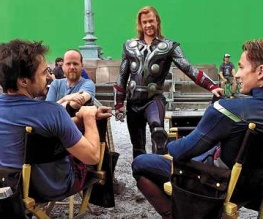 It may be approximately THREE BILLION YEARS until we even see a trailer for Joss Whedon's forthcoming superhero epic The Avengers, but Marvel are continuing to drip-feed us snippets of content from the set. Today they've released some distinctly polished-looking set photos along with character portraits and profiles for the six members of the team.
Take a look at these (click to biggify, as usual):
Entertainment Weekly has massively hacked around the quotes it got from Downey Jr, Hemsworth et al, so we're just going to cherrypick our favourite bits:
Chris Hemsworth (Thor):
"I think [Thor's] motivation is much more of a personal one, in the sense that it's his brother [Loki] that is stirring things up. Whereas everyone else, it's some bad guy who they've gotta take down. It's a different approach for me, or for Thor. He's constantly having to battle the greater good and what he should do vs. … it's his little brother there."
Robert Downey Jr (Iron Man):
"I said, 'I need to be in the opening sequence. I don't know what you're thinking, but Tony needs to drive this thing.' [Joss] was like, 'Okay, let's try that.' We tried it and it didn't work, because this is a different sort of thing, the story and the idea and the theme is the theme, and everybody is just an arm of the octopus. But what was I like? As usual, just fucking aggressive and hurtful; whatever. The usual."
Scarlett Johansson (Black Widow):
"The other day we were doing this big reveal shot of all the Avengers. Thor has got his hammer, Cap's got his shield, Hawkeye has his bow and arrow, and Hulk is huge. Then it pans over to me and I've got guns. Iron Man's like, hovering above all of us, ready to go. I was like, 'Joss… um… do I look okay holding these guns?'"
Jeremy Renner (Hawkeye):
"The only sort of thing I cling to is the relationship of past experiences with Scarlett's character, with them both being human… [Hawkeye]'s the only one who can really take down The Hulk with his tranq tip arrows. He knows his limitations. But when it comes down to it, there has to be a sense of confidence in any superhero."
Chris Evans (Captain America):
"You've got to imagine, it's enough of a shock to accept the fact that you're in a completely different time, but everybody you know is dead. Everybody you cared about. He was a soldier, obviously, everybody he went to battle with, all of his brothers in arms, they're all dead. He's just lonely."
Mark Ruffalo (The Incredible Hulk):
"There's a really cool dynamic between Tony Stark and Banner. Banner actually enjoys it, and finds it really refreshing. They're a lot alike in a strange way. They're both these kind of scientists who are mavericks, kind of renegades. Banner, for all his mild-mannered mythology, he's still the dude who was testing some pretty crazy shit on himself, so he has that rebel streak in him."
So there you have it! We've also got a selection of distinctly airbrushed set photos replete with greenscreen and latex for you – is it just us that think Jeremy Renner's head was designed for a sicklier man than he? Clickity click click:
The Avengers will assemble onscreen on the 27th April 2012. Huzzah!
About The Author