Backstreet Boys: The Movie goes into production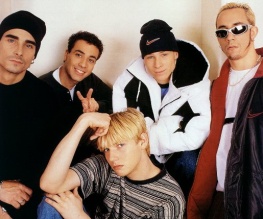 Backstreet's Back, alright! Or in other words, the 90s boy band Backstreet Boys, are not only releasing a new album after years of silence but they are also releasing a documentary charting their reunion. The documentary is being put together by Pulse films, the company behind Katy Perry: Part of Me, as well as documentaries for Blur and LCD Soundsystem. The film is currently using the working title Backstreet Boys: The Movie and will be directed by Stones In Exile's Stephen Kijak. He said "After making a film with The Rolling Stones, what does one do to top that experience? Backstreet Boys, that's what!".
This year marks the band's 20th anniversary after being brought together as child stars years ago. The group, made up of Nick Carter, Brian Littrell, Kevin Richardson, A. J. McLean and Howie Dorough still hold the title of one of the top selling global groups of all time. The Larger than Life singers split up when Kevin Richardson left in 2006 and consequently had a six-year hiatus. Back in 1993, there were talks of bringing in a sixth band member called Ryan Gosling, but he refused and then accepted and then it was too late. It would have been a very different band with him in it.
The singers have said: "We always wanted to make a film and now is the ideal time – with Kevin back, the fact that we are masters of our own destiny, a new album in the works and our 20th anniversary all adds up to being the right time to share our story."
Backstreet Boys: The Movie is set to be completed later this year.
Are you bursting with excitement at the news? Were you a Backstreet fan? Let us know!
About The Author