Bafta 2013: winners and losers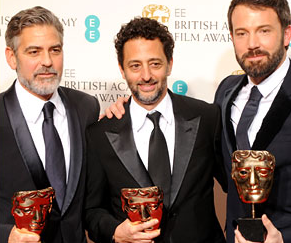 Les Misérables and Life of Pi may have earned a mighty 9 nominations each at last night's Bafta awards, but it was Ben Affleck's Argo that stole the Bafta crown. With 3 impressive wins, Argo scooped up Best Film and Editing, with Ben Affleck successfully nabbing Best Director. The proud Argo director took to the stage gushing and frenzied, hurriedly thanking as many people as he could before claiming that he was now on his "second act".
The Bafta evening was hosted by Stephen Fry and saw some pretty predictable (but nevertheless well-deserved) wins for Daniel Day-Lewis as Best Actor for Lincoln and Anne Hathaway as Best Supporting Actress for Les Misérables, but there was a delightful surprise for Emmanuelle Riva as Best Actress for Amour. Oscar-nominated Lincoln failed to get many more wins aside from Best Actor, but is sure to made an impact at this year's Oscars with a sturdy nomination in almost every category. Greedy.
A win for Django Unchained as Quentin Tarantino nabbed Best Original Screenplay; a brilliantly justifiable award, beating The Master. Christoph Waltz then picked up Best Supporting Actor for his role as the German bounty hunter in Django. It may have been an unfair snub for Samuel L Jackson's role in Tarantino's new Western, but he quite happily showed that it didn't matter as he presented the award for Best Film, "I'm Samuel L Jackson, I can do whatever I want." Our vote for Best Bafta Banter goes to Samuel L.
Les Misérables may not have scooped Outstanding British Film, but it still gained an impressive 4 Baftas including Anne Hathaway's win, Production Design (Eve Stewart, Anna Lynch-Robinson), Make-Up & Hair (Lisa Westcott) and Sound (Simon Hayes, Andy Nelson, Mark Paterson, Jonathan Allen, Lee Walpole, John Warhurst). Meanwhile, Life of Pi gained two awards for Cinematography and Special Visual Effects, whilst director Ang Lee was beaten by Ben Affleck for Best Director. Ang Lee may not have celebrated any Bafta wins, but he's still in with a pretty good chance at this year's Oscars.
Other Bafta wins included Bart Layton (director) and Dimitri Doganis (producer) for Outstanding Debut by a British Writer, Director or Producer for their work on The Imposter. Amour glamorously won Film Not in the English Language, beating Rust and Bone and Headhunters. Searching for Sugar Man picked up the award for Best Documentary whilst Swimmer won Best Short Film.
Brave wore the crown for Animated Film while The Making of Longbird won Short Animation. Original Music went to Skyfall and Best Adapted Screenplay was awarded to Silver Linings Playbook's David O. Russell, who thanked his son for being the source of his inspiration. N'aww.
Juno Temple won this year's Bafta award for The EE Rising Star Award, which was voted for by the public and the majority of Temple's younger brother's school. Tessa Ross won Outstanding British Contribution to Cinema, which included her work on Slumdog Millionare, In Bruges and the brilliant Four Lions. Kevin Spacey then presented The Bafta Fellowship to his friend and colleague, Alan Parker, director of Bugsy Malone.
Last but certainly not least, Skyfall became the first Bond film ever to receive a Bafta win, and even better, it received 2 gold Bafta faces. Beating Les Mis, Anna Karenina (who won Best Costume), The Best Exotic Marigold Hotel and Seven Psychopaths, Skyfall took home a glorious achievement for Outstanding British Film. The Master heavily lost out on any Bafta win. Will this affect its chances at the Oscars? Probs.
The question now remains, will Argo obliterate this year's Oscars with another sweeping victory across all its nominated categories?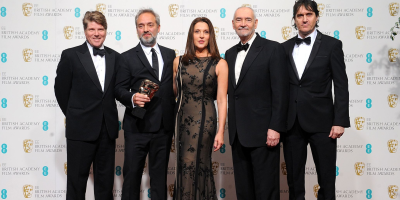 So. Righteous win(s) for Argo or diabolical outrage? We're going with righteous win. What do YOU think?
About The Author