BBC newsreaders dress up for Star Wars announcement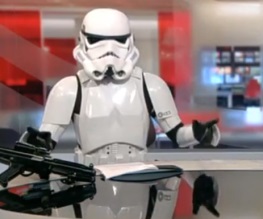 Proving conclusively that there is nothing at all to do in the West Country, two BBC Points West newsreaders dressed up as classic Star Wars characters last night to reveal that J.J. Abrams will be starting his search for a new generation of sci-fi stars in Bristol.
Alex Lovell (she's in white) and David Garmston donned the armour of an Imperial Stormtrooper and infamous bounty hunter Boba Fett for their 'and, finally…' piece on last night's news. Here's the clip:
Look, they've even got the guns! It's not much of a challenge to get hold of a Blastech E-11, but we're actually quite impressed that they found an EE-3 carbine.
Given their facility with delivering awful lines in restrictive costumes, we're guessing Alex and David will be at the front of the queue when auditions open for street-smart orphan Rachel and fatherless man-child Thomas (the pseudonymous stars of the new film/films) later this month. It's got to be more interesting than reporting all the hottest news from Bideford.
Do you think the Daily Mail will go mad about the BBC wasting money on renting Star Wars costumes? Yeah, us too. Aren't they predictable?
About The Author