Ben Foster added to cast of Prometheus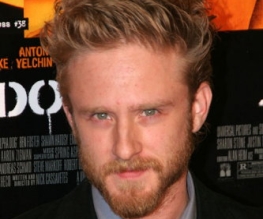 The cinema world has been waiting with bated breath ever since it was announced that Ridley Scott would be taking the reins on the Alien prequel Prometheus. Now it has been announced that Ben Foster has signed on, we are even more excited!
Foster joins an already impressive cast that includes Charlize Theron, Idris Elba, Michael Fassbender and Guy Pearce, and the announcement of his involvement has coincided with the first details of the plot being released. Are you ready? Here goes…
"Visionary filmmaker Ridley Scott returns to the genre he helped define, creating an original science fiction epic set in the most dangerous corners of the universe. The film takes a team of scientists and explorers on a thrilling journey that will test their physical and mental limits and strand them on a distant world, where they will discover the answers to our most profound questions and to life's ultimate mystery."
…Ok, so it's not the most revealing of descriptions; but as this is one of the most hotly anticipated releases in recent memory, we can forgive Scott for keeping his cards relatively close to his chest. A release is scheduled for June 2012, so we can expect many more teasers before then.
What do you think about the addition of Foster to the cast? And more importantly, what is life's ultimate mystery? Give us your thoughts!
About The Author