Benicio Del Toro to join Inherent Vice?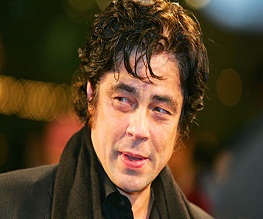 Hollywood has once again got its claws into a nice and obscure novel to turn into a movie so they can take all your money off you. Benicio Del Toro is in talks to climb on board Paul Thomas Anderson's Inherent Vice. He will join Joaquin Phoenix in the project, which is an adaptation of Thomas Pynchon's crime novel of the same name.
Inherent Vice sounds like Academy Awards fodder, telling the tale of a pot-smoking detective called Doc Sportello, who investigates a case of a missing girl (isn't it always?) in the spring of 1970. If Del Toro signs up, he will play a small but significant role of an attorney who attempts to help the hero. Del Toro was last seen in the rather underwhelming Savages. With shooting scheduled to start later this month, Benicio better get his backside in gear and sign on the dotted line.
Phoenix's last role was in Paul Thomas Anderson's The Master and, despite being famously against anything to so with the most-coveted award in film, gained an Oscar nomination for his performance.
About The Author