Best For Film Presents… We Like Short Shorts – the lineup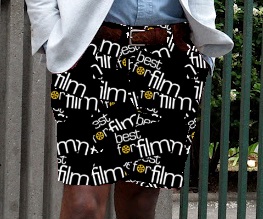 With just two and a bit weeks to go until the second night of our dazzlingly brilliant film club, we thought you might like to know what we're showing – after all, nobody wants to pay good money for a ticket to a mystery film screening. Oh wait, LOADS of people do that, and our tickets (get yours here, you beautiful maniacs) are FREE anyway. We must just be in a nice mood – it's summer, after all, and we've spent a lot of time at Bar Paragon recently.
BFF Presents… We Like Short Shorts will be, like the last one, at the brilliant Genesis Cinema in Stepney/Whitechapel/whatever. It will not, like the last one, be on the second Tuesday of the month, because someone else beat us to it – instead, it'll be on the second Wednesday (that's August 14th for you number fans). We're particularly excited about We Like Short Shorts because, thanks to the boundless talents of the Best For Film crew, we've been able to compose an entire slate of films written, directed by or starring some of our very own writers – in some cases, all three. So here, in order of running time (but probably not in the order we'll be showing them) is what's on the menu:
Probably the most upbeat zombie film you'll ever see, this ultrashort blends humour, pathos and animated birds that can wave. Stars Duncan Vicat-Brown in the title role and features Florence Vincent wielding a mug tree.
Anna vs. the Dead (dir. Jamie Drew)
The real horror is housing regulations in this charmingly understated take on the classic haunted house flick. Features some truly amazing noises, a Hammer-worthy performance from Janina Matthewson and a bit where Duncan Vicat-Brown eats a crisp.
Cooks (dir. Matt Tindall)
Filmed some time ago by the team that brought you The Better Man, but never before screened in public, Cooks promises to be the best film about a dysfunctional TV cookery duo you'll ever see. Stars David Sykes and Tom McInnes as Adrian and Andy (can't remember which way round, mind), and features a host of Bustabowl talent including Josh Bennett, Richard Wallace and Duncan Vicat-Brown as Wolfie.
On top of all that, we'll have our customary film quiz, themed cocktails designed by the brilliant bar team at Bar Paragon AND music from the incredible Felix Hagan. It's going to be a hell of a night and tickets are strictly limited, so head here to pick up yours now. Did we mention they're free? Oh, and you can have some sort of really inexpensive present if you can guess the theme of this month's bonus round – drop us a comment below.
Will you be coming to Best For Film Presents… We Like Short Shorts? Don't tell us, tell your friends.
About The Author